Wednesday, October 25th, 2006
My friend Darren from Adidas called – they're shipping a pair of adidstar supernova lights to me to race IM-Florida with.  SWEEEEET!
My brother Brent has officially taken the cake as far as crazy, genius, inventors go,….today he sent me a shot of his new PICK-UP TRUCK BIKE!!!!  check it out.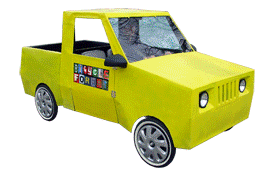 I had real good positive feedback while riding today — my heart rate looks to drop fast in response to easier efforts.  To maintain my desired HR today, felt like I was smokin' and putting in decent force to the pedals.
Good stuff.
SC