Hans Wessels and Danielle van der Waard lead the chase group

Photos by Henk Meerman

The lead group of Ymte Sijbrandij, Martijn Mateman, Derk Thijs and Theo Homan
The main event on Sunday was the 80km road race. This one is always a lot of fun. Tactics are important as a group of riders working together can cover the distance much more efficiently than a lone rider. 80km is also far enough that some riders blow up and get dropped from their group. There was no shortage of excitement out on the course for me. Early in the race, I was riding in what was probably the third pack of riders. As things broke up ahead, and as some riders dropped away from my group, I worked my way up to finish 12th overall. This was definitely my best result of the weekend.
The final event of the weekend was the sprint final. Only the top eight from Saturday's heats would compete in this event. Dennis Vermeij had the fastest time on Saturday, but it remained to be seen who would come out on top in the head to head sprint competition.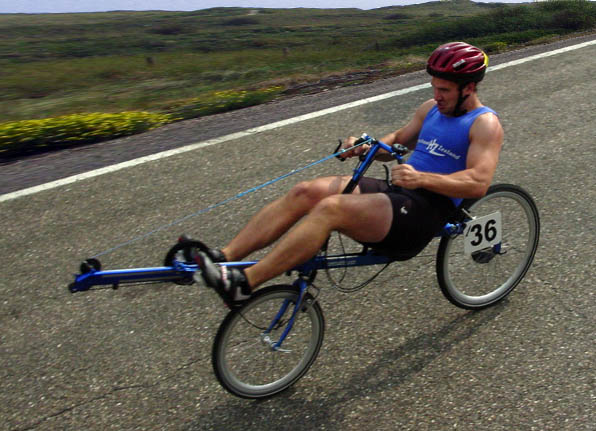 Derk Mulder competes in the Rowingbike sprint
In the end, it was the powerful rugby player Arno Seijbel that won the final sprint over Ymte Sijbrandij. However, it was Ymte, through his consistently high placing throughout the championship, that won the overall title. Martijn Mateman and Derk Thijs rounded out the top three.
Video from 2002 can be seen here.
reported by Brent Curry