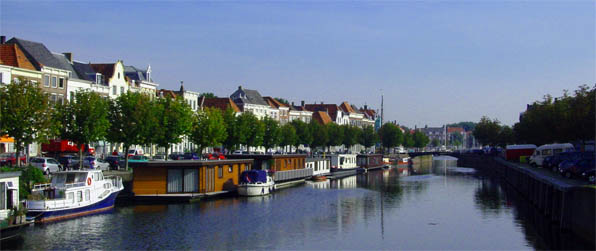 Middelburg is an idyllic little town in Zeeland, in the Southwestern corner of the Netherlands. It is also the home of Derk Thijs — the founder of Thys Industrial Designs and the creator of the Rowingbike. Every year since 1999, Thys Industrial Designs hosts the European Rowingbike Championships at the Neeltje Jans/ Roompot Marina about 20km North of Middelburg. Having attended the championships once before in 2002, I was glad to have the opportunity to return for a second time in 2006.
The championship attracts competitors from all over Europe but this year Elisa Labiano-Jensen came up from Argentina and of course there was a lone Canadian competitor as well. Although Rowingbiking is an obscure event, the quality of competition is very high. In 2002, I took an empty chair in the dining room the night before the race and found myself sitting across from the former World Champion and Olympic rower Nico Rienks. In 2006, I recognized many of the top competitors from four years earlier. There was Ymte Sijbrandij — the 2003 & 2004 champion and a top recumbent bike racer. The 2001 champ Theo Homan was there too. Theo has also used his Rowingbike in the legendary Paris-Brest-Paris race. In 2003 he covered the 1200km course in under 63 hours beating all other recumbent riders. Derk Thijs is always a pre-race favourite as well. The former world champion windsurfer won in 1999, 2002 and again in 2005. Derk used his Rowingbike to ride the entire route of the 2001 Tour de France in 21 days. That's one day faster than the pros!
Another competitor expected to do well was Martijn Mateman. Martijn finished second last year, and since I was sharing a condo with him for the weekend of this race, I was routing for him to have another good one this time around.
Despite all the top notch athletes at the event, the European Rowingbike Championships is open to everyone. Those that are less interested in competition can enter the touring class and join in a 50km ride on the Saturday and a 70km ride on the Sunday.
Each morning all the participants would meet at the Roompot Marina and ride to the artificial island of Neeltje Jans. To get there, we'd cross over the Oosterschelde barrier, part of the Deltaworks project — the civil engineering wonder that keeps this low-lying part of the world from being consumed by the ocean.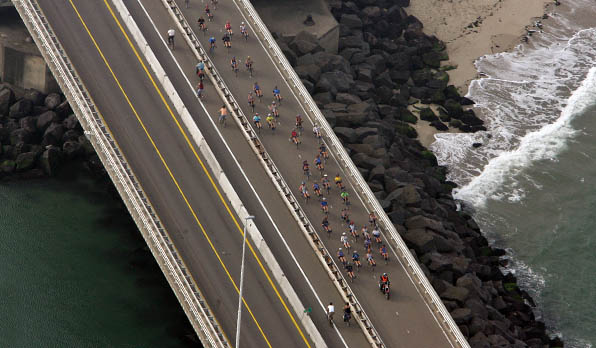 Photo by Sybrand Treffers