Columbus introduced a new seamless, triple butted, stainless steel tube set called XCr. Because it's stainless, these tubes don't need to be painted. A good polish is all that should be required for corrosion resistance. This demo frame was built up by Dario Pegoretti. The fat chain stays are a Pegoretti signature.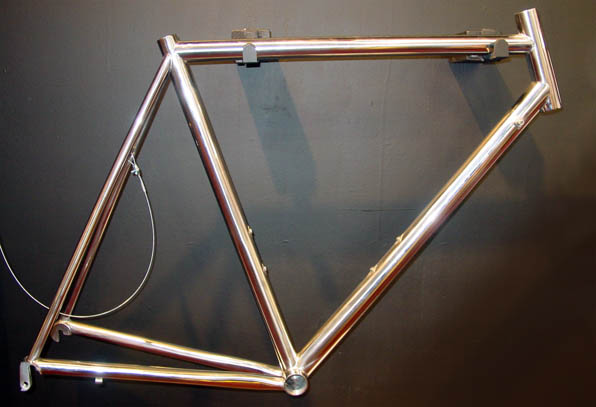 As much as I like the idea of a bare stainless steel frame, it was also neat to check out all of the elaborate frame graphics employed by Colnago and others.
Felt's line of beach cruisers come in an array of different themes, each distinguished by paint and decal schemes. Tire colours are also selected to suit the theme. Specialized decked out this full suspension frame in argyle.
Having seen so many promotional vehicles like this Hummer, I got to thinking about a promotional vehicle for the Bicycle Forest. To see how we arrived at the truck on the right, click the image.