Bicycle trailers are a popular item in today's bike shop. But walk down the aisles of even the most comprehensively stocked bicycle merchant, and one of the first things you'll notice is the scarcity of trailers capable of hauling 16 foot watercraft. The dearth of suitable trailers was a small stumbling block, but certainly nothing to stop Gary. Besides, why should Gary worry about not having a trailer? He didn't have a tandem bicycle either, or for that matter, a canoe.
Ultimately, Gary would purchase a used aluminum canoe for the voyage. Not ideal for the whitewater sections of the upper Bow, but in the event of a derailment on the highway, an expendable craft such as that 100 lbs behemoth seemed like a wise choice.
As Gary's trip partner, the acquisition of the bike and trailer would be my responsibility. I welded a custom trailer in my garage in Ontario and ordered a folding tandem from the good people at Bike Friday in Eugene, Oregon.
The bike was shipped straight to Calgary where Gary was waiting anxiously with his shiny silver canoe. The trailer arrived when I did. It didn't fit the bike as I had intended, but with a little tinkering, we came up with something that worked. We were soon cruising smoothly up and down the steeply sloped streets of Gary's neighborhood.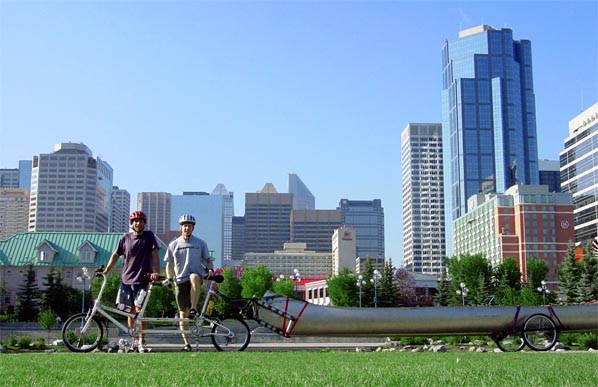 On August 7th on a gorgeous Alberta morning, we departed from downtown Calgary. We had a few collisions with the concrete barricades on the city bike paths before we fully figured out the cornering characteristics of our rig, but we soon settled into a rhythm and sailed out of town.