When we overtook rollerbladers and cyclists, we would be 8 feet past them before most would notice the unusual cargo trailing behind us. Comments were therefore shouted ahead as we hurdled onward. It was heartening to hear so many claim that our rolling boat was the "coolest thing ever". Especially reassuring as I expected most comments to be of a more instructive nature, spoken by folks with clever ideas about where we should stick our boat; namely where the sun don't shine.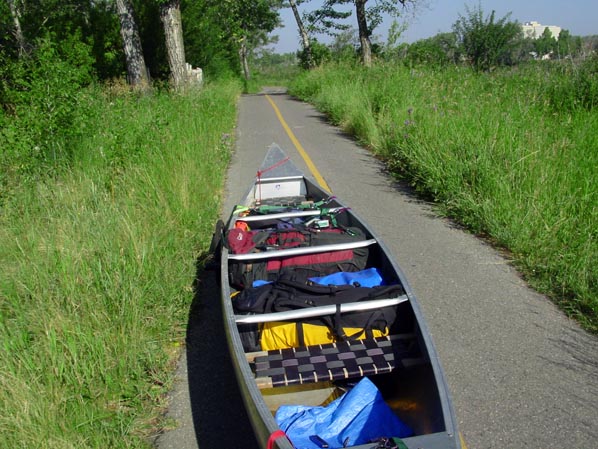 We followed a route that loosely paralleled the river. On the Trans-Canada Highway, we were the subject of more curiosity. A number of people pulled over to tell us how they'd always wanted to find a way to transport their canoe as we were doing. Others apparently had never dreamed of transporting a canoe as we were doing, but were nevertheless sufficiently intrigued to stop for a chat and to photograph our spectacle.
On our first night, we camped at Ghost Lake Reservoir. Our odometer read 84 km. Not epic by cycling standards, but not bad for a single day canoe portage.