The next day, we rode out of the prairies and into the mountains. We made full use of the 21 speed drive train on the tandem; spinning like a weed-wacker on the uphills and coasting up to 66km/h on the downhills.
If I was the engineer on this land faring cruise ship, then Gary was the ship's twisted recreation director. On our day leaving Canmore, Gary had a fun little morning excursion planned for us- a 12km mountain running race at the Nordic Centre! Our warm up was hauling our canoe up the steep grade to the start line. Contrary to how we both felt at times during the race, we actually did finish it alive. There wasn't much time to relax upon crossing the finish line. Our itinerary had us attending a presentation on glaciers at the Whyte Museum in Banff that afternoon.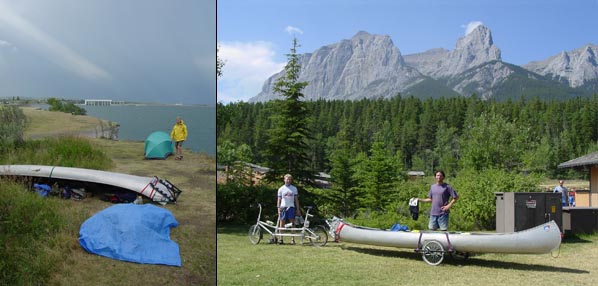 We pedaled furiously out of Canmore and as we approached Banff, Gary figured we had enough time to spare to take the scenic route up Tunnel Mountain. We were stopped at the top by a young Parks worker who wanted to know what in God's name we were doing with a canoe on the top of a mountain. I'm glad he directed the question to Gary, because frankly, I didn't have a clue either. But I had to admit; the view from that road was spectacular.