As we forged across PEI, we won the respect and sympathy of many for all the hardships that our journey entailed. People started to speak as though this expedition by couch represented one of the more significant historical crossings of the small island province. One local cyclist told us about the National Boy Scout Jamboree of 2001, and how all the trail gates had been opened for the associated bicycle tour. He insisted that we deserved the same concessions. "What you two are doing is far more important than any World Boy Scout Jamboree!" he declared. We were flattered by this exaggerated comparison.
Before riding off, he passed on a few phone numbers of people he thought could help us track down a master key for all the gates. We gave them a try but the effort proved fruitless.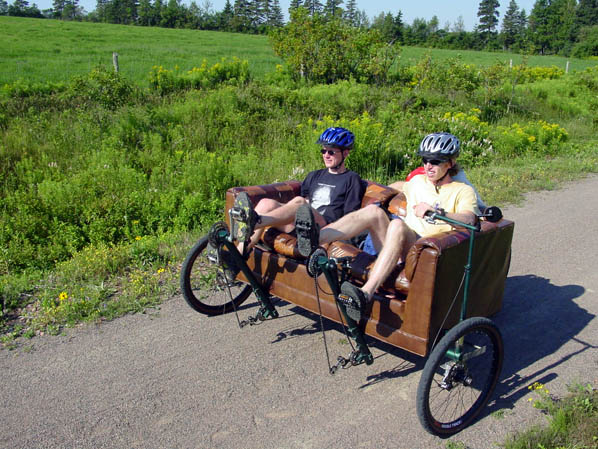 So we soldiered on. Along the way, we were interviewed by local papers, we were offered places to stay for the night, and we were served Pepsi. In short, we were having a great time out on the trail. We even ventured down the branch trail to Charlottetown. But as enamored as we were with that scenic pathway, as we neared the end of the track in Elmira, we found the gravel became intolerably soft and loose. Our speed had dwindled to no more than a brisk walking pace. We had been tempted many times before, but we finally decided to bid farewell to the trail and head for the coast by road.