Two days later, we woke to pouring rain. We were further south down the coast of New Brunswick but still hadn't found anywhere to buy helmets. The day before, we'd had our run in with Constable Demeau and ever since, our bike had been taking quite a beating from all the driving on and off the road in our futile attempts at being unobtrusive to motorists.
We needed to give one of the wheels a good truing. But alas, on top of everything else that had happened, our tools had been stolen that night as well. With so much conspiring against us, we decided to take that day to reorganize, and also, to make the drive across to Prince Edward Island.
The Confederation Bridge had been on our minds since day one. The 14km span linking the mainland with PEI was off limits to cyclists. While it might have been only mere speculation on our part, we had a pretty strong feeling about how a slow moving couch would be received at the ramparts of the bridge.
Hitchhiking back to the van proved to be a great decision. After a day of errands and driving, we'd acquired helmets, repaired our wheel, and lugged our couch across the bridge to the quaint sanctuary of PEI.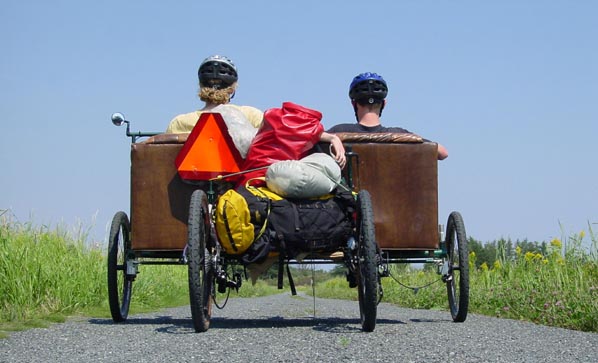 The next day we began riding again from the town of Tignish. Tignish is located at the Northwestern end of the Confederation Trail, a multiuse path built over an abandoned rail line. Over the next few days we would follow this trial eastward. But first, we wanted to ride west to the coast. We wanted the satisfaction of not only traveling the full length of the trail, but also crossing the island from tip to tip. This would surely be a first for human powered couch travel.