Sunday, March 6th, 2011
Last week was a busy time at the North American Handmade Bicycle Show (NAHBS). With so many people interested in BikeCAD, it was hard to find time to leave our booth and see many of the other bikes on display. With that disclaimer on the table, here's a gallery of shots I did manage to take in my whirlwind tour of the show floor before the doors opened.
Besides organizing the show, Don Walker put together an impressive collection of his own bikes. Among them was this fillet brazed tandem.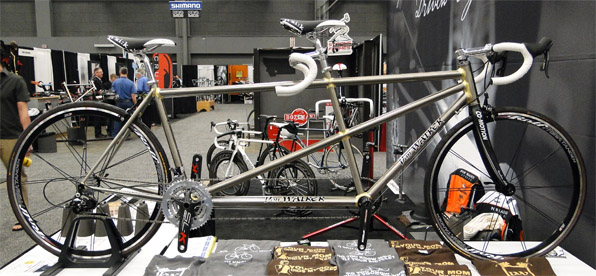 Craig Calfee had a fun mix of carbon and bamboo. This carbon tandem with S and S Couplings is an example of Calfee's high performance offerings.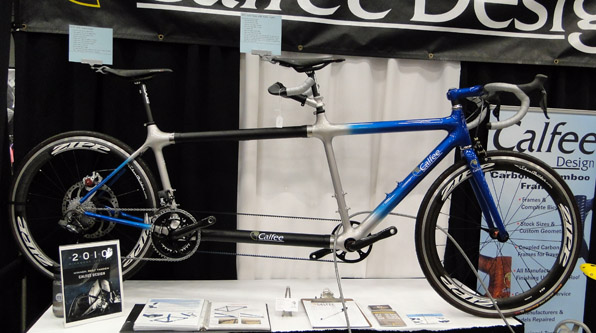 Meanwhile, I also got a kick out of this ridiculous hemp wrapped carbon tall bike.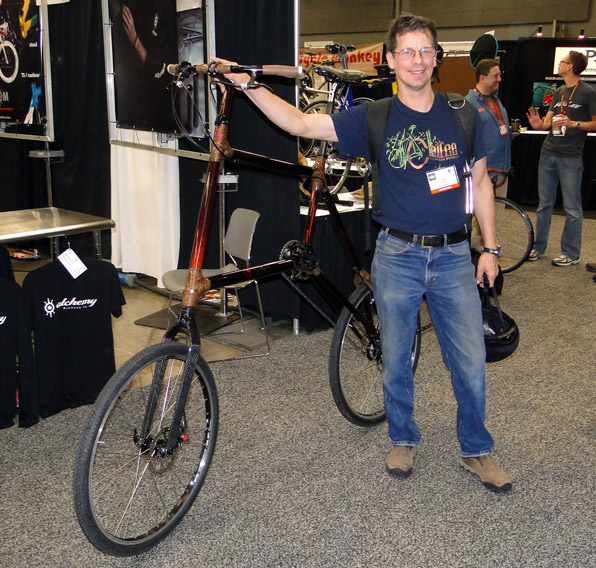 Note the huge carbon fibre kickstand below.
Rob Jones from Canadian Cyclist was conducting an interview with Sam Whittingham as I walked by the Naked booth.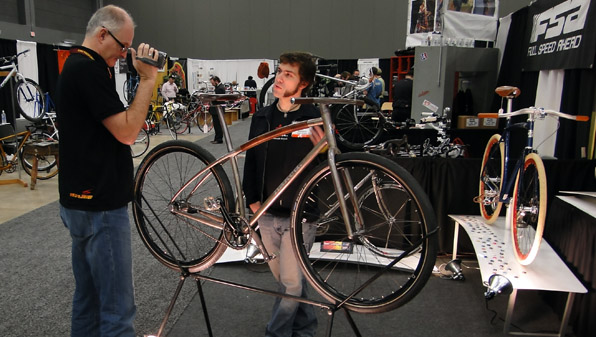 Sam's bike eventually won the People's Choice Award. With all the innovative features shown below, it's easy to see why this bike was so popular.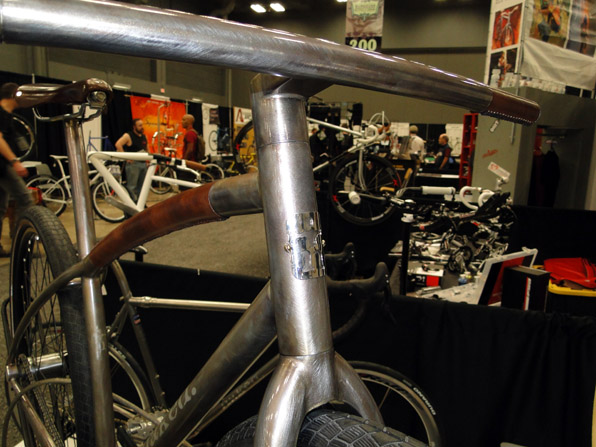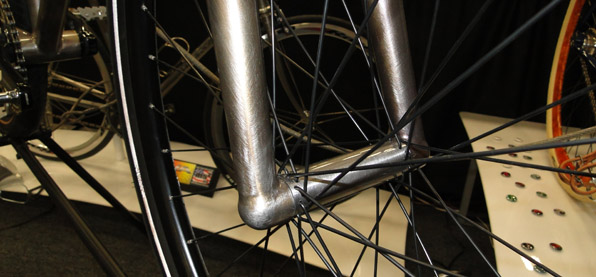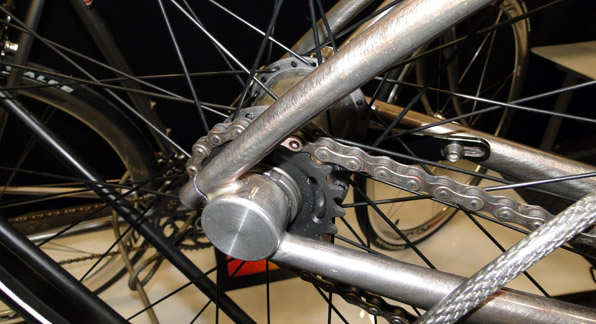 Kimori's bikes are always really interesting too.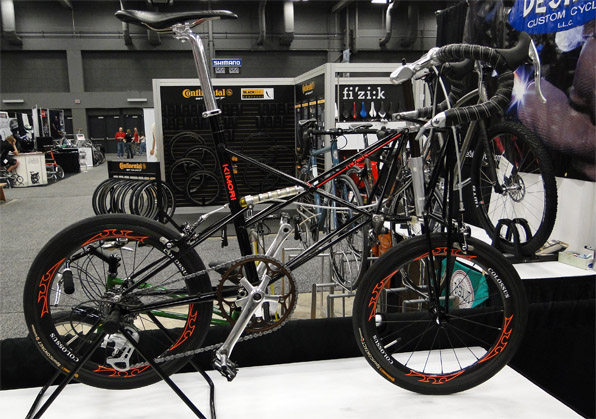 This Cinelli XCr is made from Columbus' XCr biphasic seamless stainless steel tubes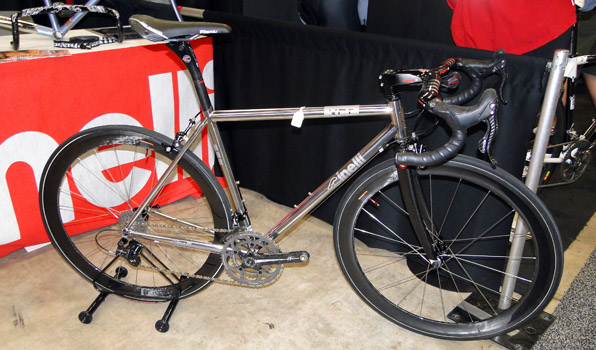 As always, Sycip was there with a nice mix of bikes.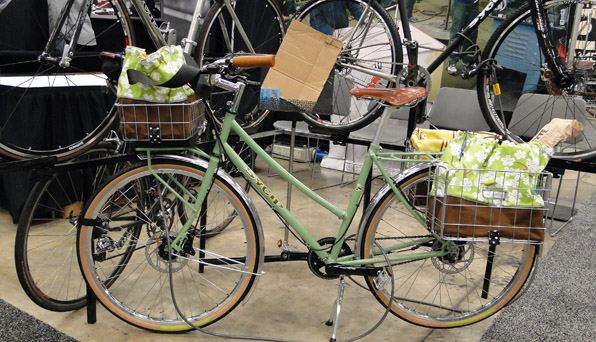 It was interesting talking to Herbie Helm. He had a triathlon bike at the show as well. He said he had always planned to build high performance machines like that. However, people kept coming to him for his ornate lug work and so most of his bikes are more like this beauty here.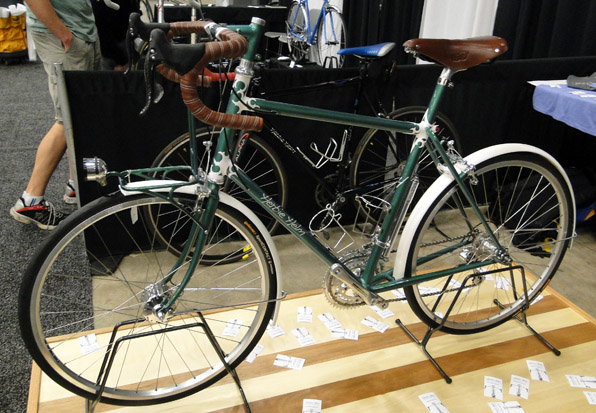 I missed talking to Mike Zanconato at the show, but I did manage to take this overexposed shot of his bike.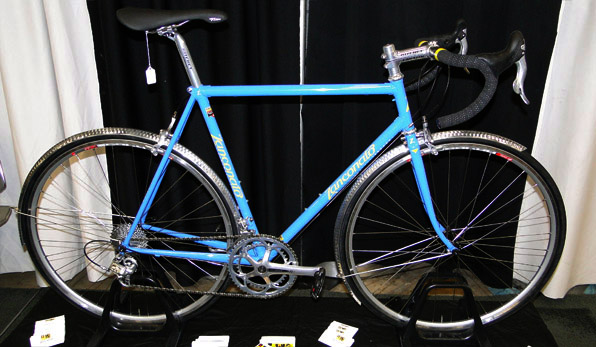 Speaking of overexposed… Dang! You can't even see the Shamrock Cycles logo on this bike, but despite my bad photography, that's clearly Tim O'Donnell's handywork on the Shamrock Cycles Celtic Cross. I like how the rack and fenders are built as a unit and can be removed quickly before a race.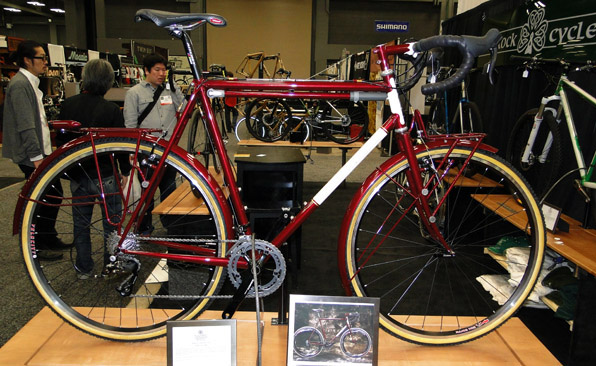 I thought the wallpaper in the Signal booth really made their bikes pop. Signal won the award for Best City Bike. I didn't get a shot of that bike.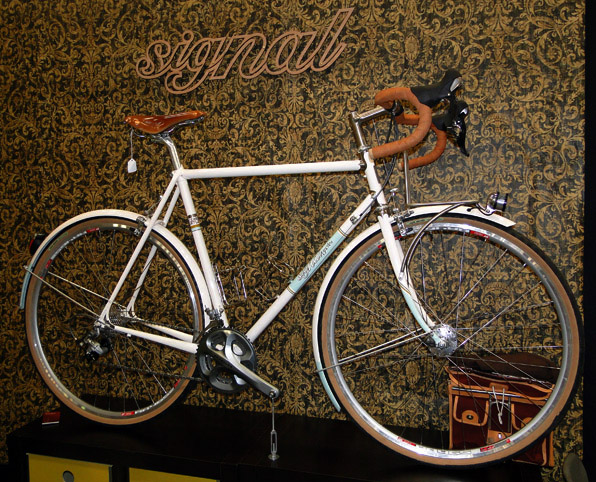 I got to see John and Cory from Caletti Cycles on Thursday afternoon. Cory had mentioned how they'd been out riding that morning. I pictured them out riding in Santa Cruz before catching their flight to Austin and thought, "Man they must be organized! How'd they have time to fit all that in?" It wasn't until later that I learned they'd driven down to Austin and things made a little more sense. Still, I do admire John's clean, fast looking bikes. I have no doubt that he must run an organized shop.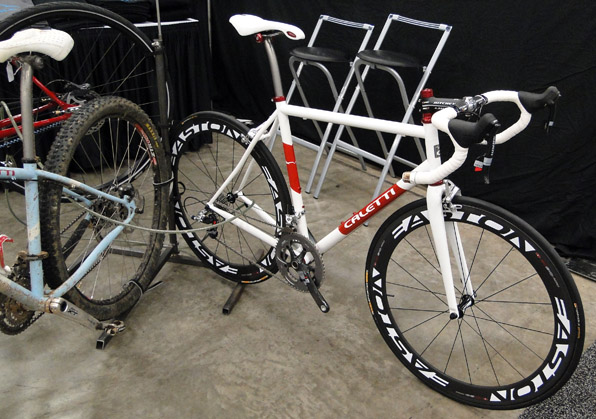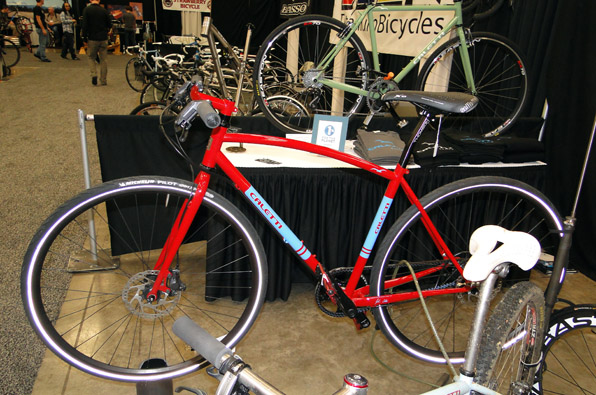 I didn't get to talk to the people at the Mosaic booth, but they had a really nice display. I did get to talk about BikeCAD with Mark Kargol who painted the Mosaic track bike below.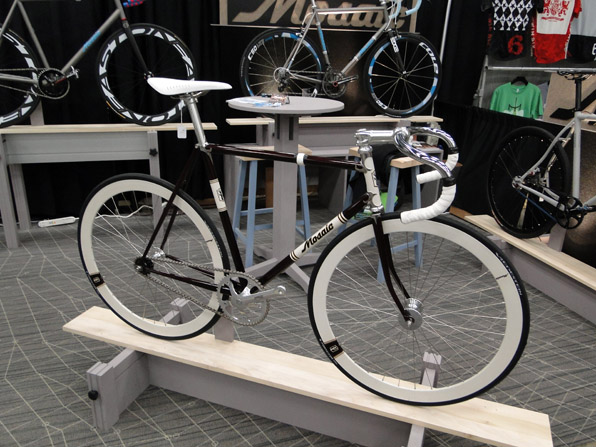 Glenn Thompson from Daltex Handmade Bicycles has been using BikeCAD for a long time. I didn't get to talk to him at the show, but I did share an elevator with him at the hotel.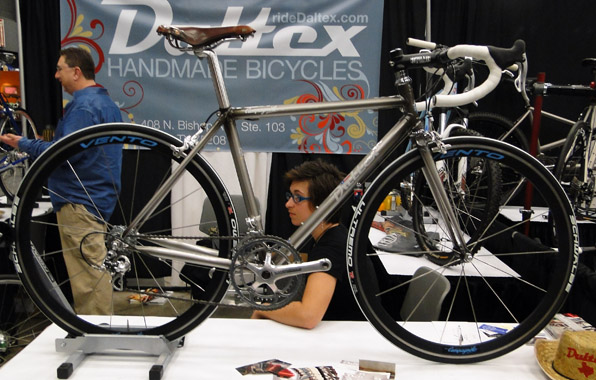 I wish I got a better shot of the bikes at the Ellis booth. They had some nice ones. They won the award for Best Road Frame at this year's show.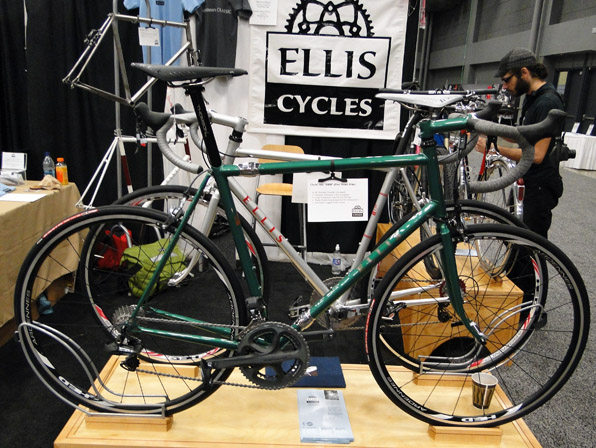 I always like to catch up with Tony Maietta, my booth neighbour from the 2008 show in Portland. This year, Tony had a number of neat bikes. On this one, he brazed rings onto the seattube to give it a bamboo like shape and then painted it in a very realistic way.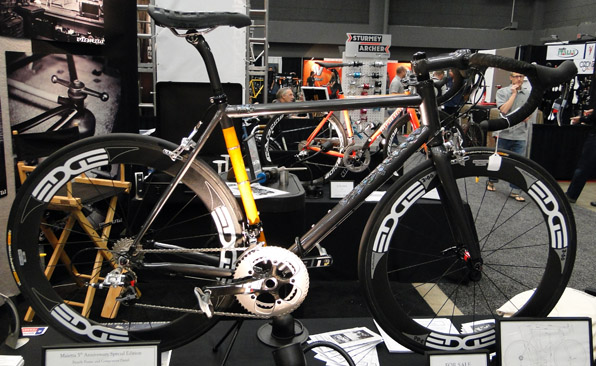 The Maietta logo on the downtube was inlaid with mother of pearl.

Vanilla always brings beautiful bikes to the show. This one is like the ones Sacha built for his daughters in previous years. But this one was made for the Museum of Art and Design in New York City.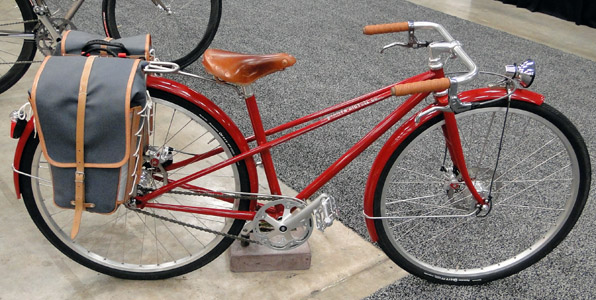 The Vanilla booth is always classy.
What the Bicycle Forest booth lacks in class, we make up for with my beautiful wife Natalie.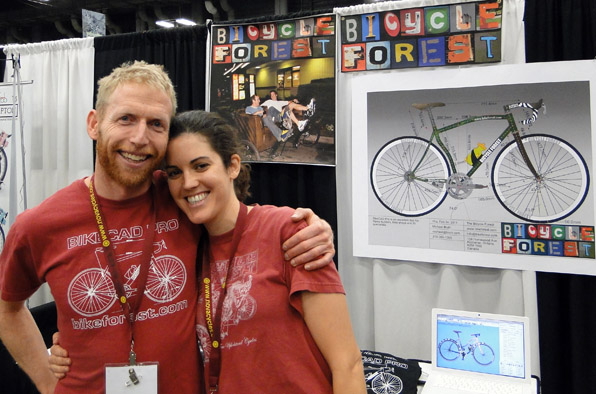 This bike by Bilenky was of special interest because it was commissioned by Brett Horton for his collection of cycling memorabilia. It was also designed to fit Brett's wife Shelly. This bike won the award for Best Lugged Frame.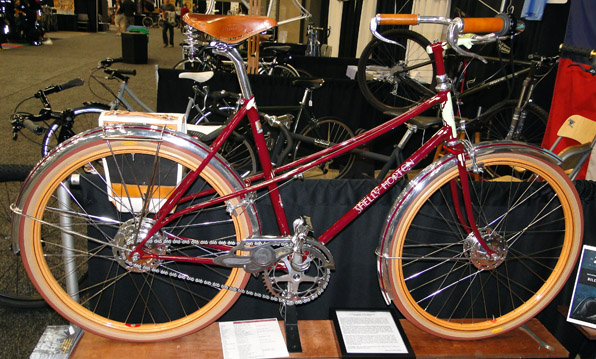 A second bike for the collection was built by Chris Bishop. This one was also intended for Brett Horton to ride himself. Chris Bishop also won the award for Best Steel Frame with his track bike.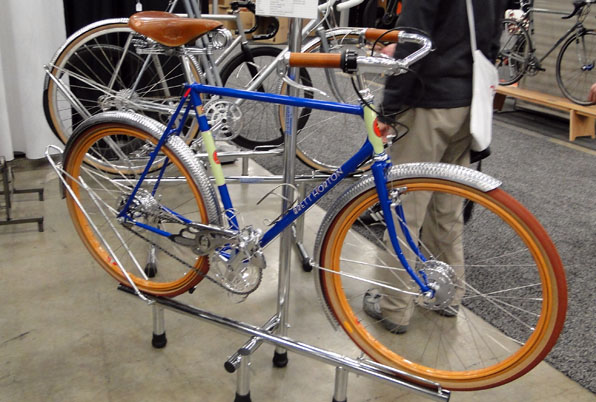 Dave Anderson won the President's Choice award with his Reynolds 953 road bike. This cyclocross bike was pretty nice too.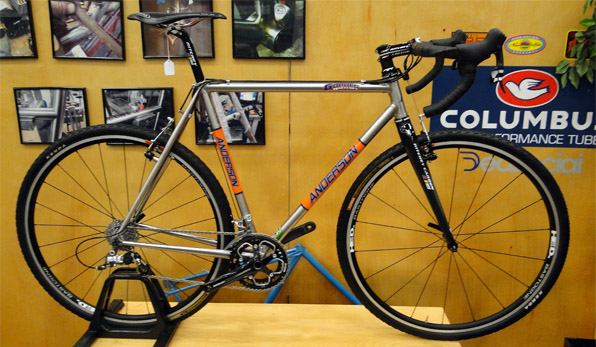 The Hampsten booth was popular all weekend. Partly because of the sweet bikes, but also because of the presence of 1988 Giro d'Italia winner Andy Hampsten.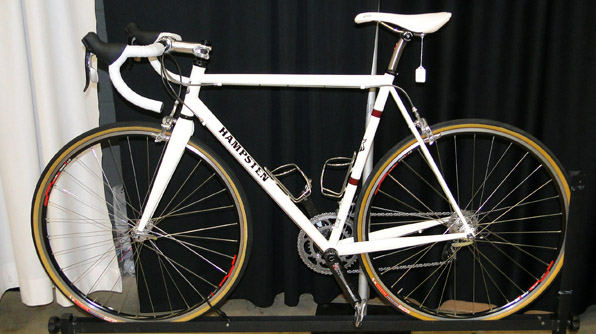 Speaking of legends, the legendary Kent Eriksen was also at the show and won the award for Best Tandem Frame. This mountain bike with Lefty fork also caught my eye.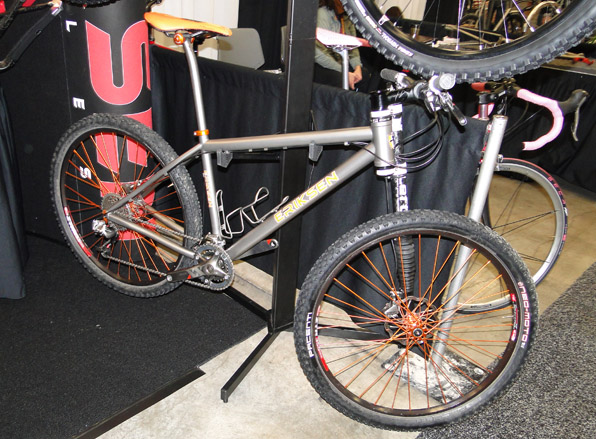 There weren't a tonne of mountain bikes at the show, but the ones that were there were gorgeous like this Form Titanium Prevail 29er.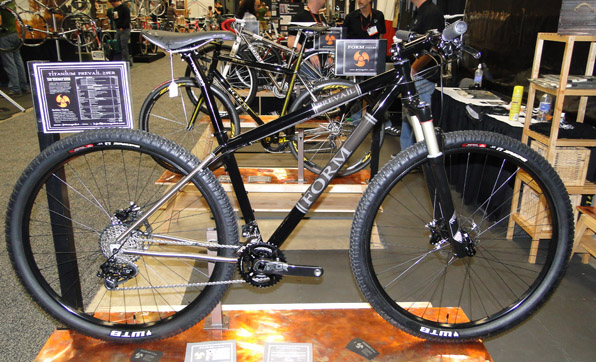 I didn't get to talk to Mike from A.N.T. but I did get to examine his booth pre-show. Later on, I chatted with his wife and kids when they came by our booth to check out the latest features of BikeCAD version 7.0.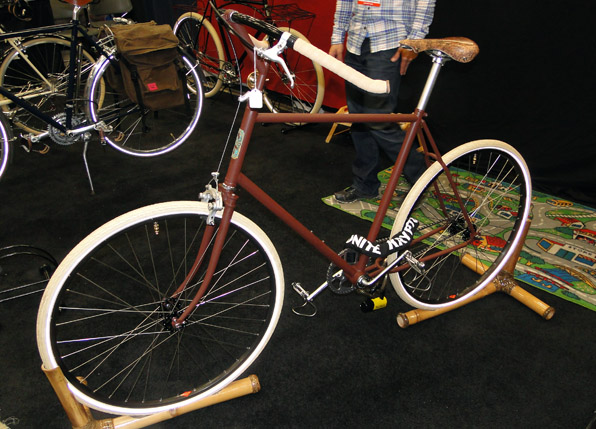 Chris King had a big booth with lots to see. Bike Snob NYC joked that this bike had an integrated charcuterie tray. I have now included the specs for Chris King's line of headsets in BikeCAD. I guess the next update will have to include front rack mounted cutting boards too.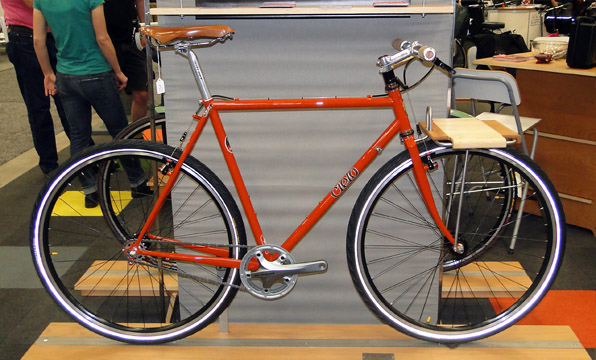 Koh Annoura has such a keen following that a few of his customers brought their bikes to the show and helped exhibit them at the Samurai Cycle Works booth.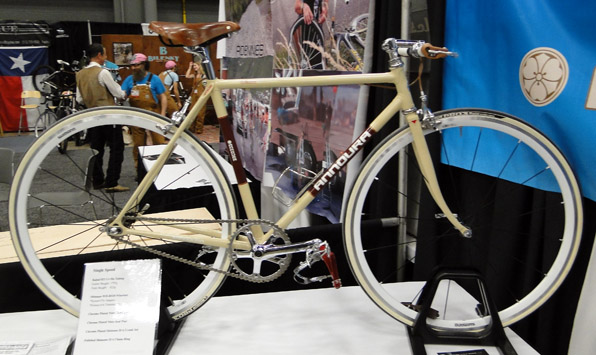 Koh and Susan Annoura handled the Japanese translation for the last update of BikeCAD. Version 7.0 has a few more terms which I took it upon myself to translate using Google translate. Koh was quick to identify a few mistakes. Apparently, directly translating saddle into Japanese results in the kind of saddle you'd use to ride a horse, not a bike. I'm looking forward to getting a few more corrections from the Annoura's soon. If anyone else would like to add their two cents to any of BikeCAD's various language files, they can do so here.
Jeff Gjertsen also stopped by to discuss a dimension that would be useful for his frame fixture. I've included the new dimension in BikeCAD version 7.03. Here's a shot of me with Jeff and Koh.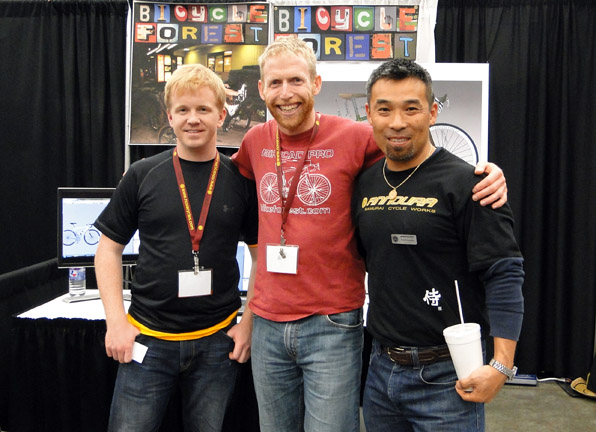 Co-Motion Cycles was just across the way from our booth. It's tandems like this that have made Co-Motion famous.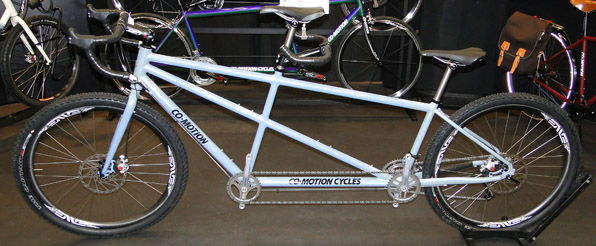 Eric Noren is one of the more charismatic builders at the show. His personality really shows through in his bikes. I like the Peacock Groove logo carved into his dropouts. And the LED dice are awesome. They seem to say, "Yes, this bike was built by a guy with a mullet. You got a problem with that?" Not at all Eric. Not at all…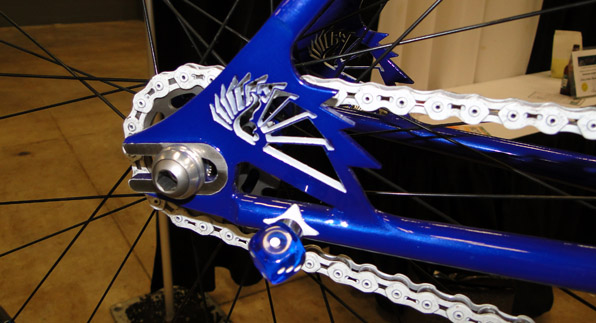 Sylvan was back with their lugged wooden frames.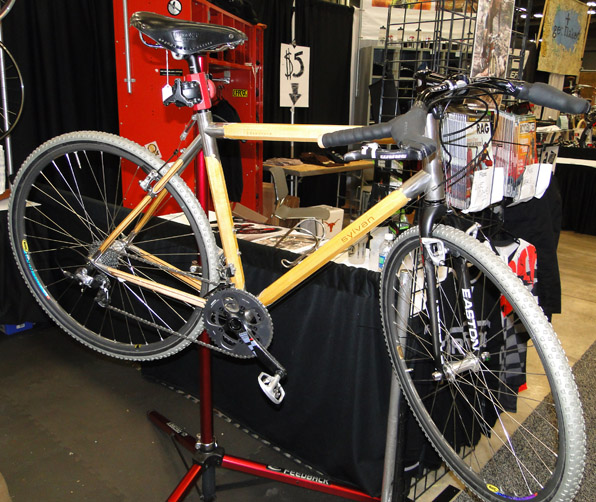 All Speedhound bikes have this neat dropout system. Different plates can be swapped in for running regular drivetrains, single speeds, or belt drives.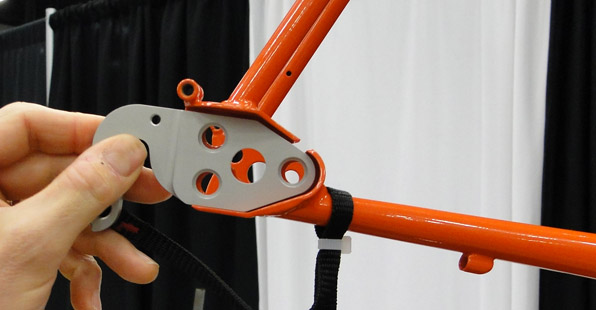 Here's one decked out with a belt drive.

This one had a first generation Huret Allvit rear derailleur (1958-60).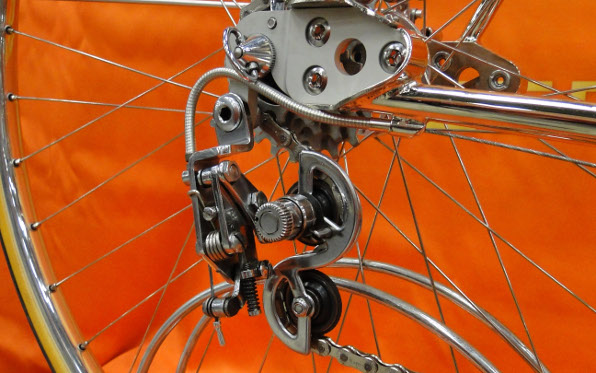 Craig Ryan is a mild mannered art teacher by day. By night, and on weekends… Well, he's still mild mannered, but he's the man behind Foresta Frames.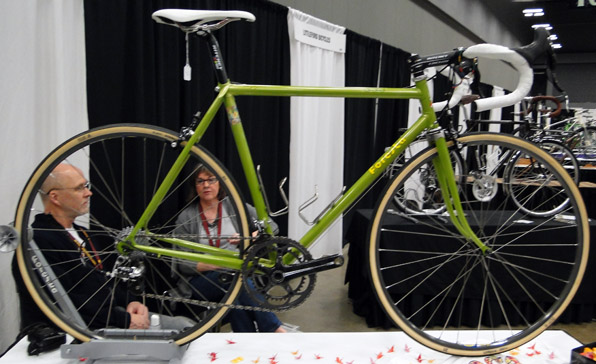 This Demon frame had an interesting patina on the main tubes. If you're going to ride like a demon, you might as well look the part.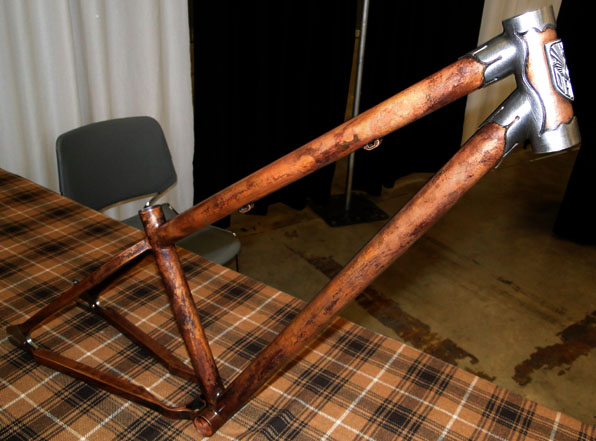 Rosene won the award for Rookie of the Year. His bike really was stunning.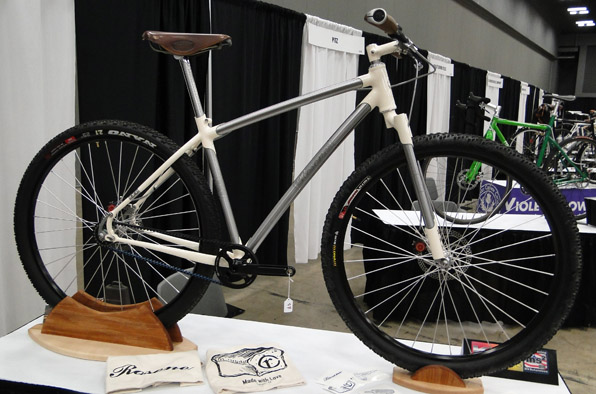 I got to speak briefly with Alessandro Pizzuti from Pitz! Alessandro traveled all the way from Italy for the show. I'm glad he came. His bike looked fantastico!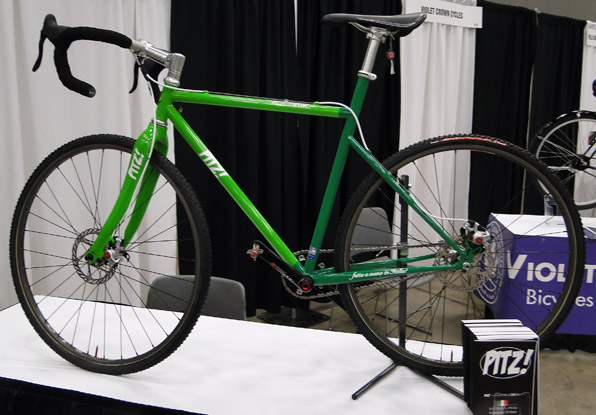 Austin's own Violet Crown was showing this bike which is representative of their specialty: handbuilt bikes meant to be ridden for transportation, not just racing or recreation.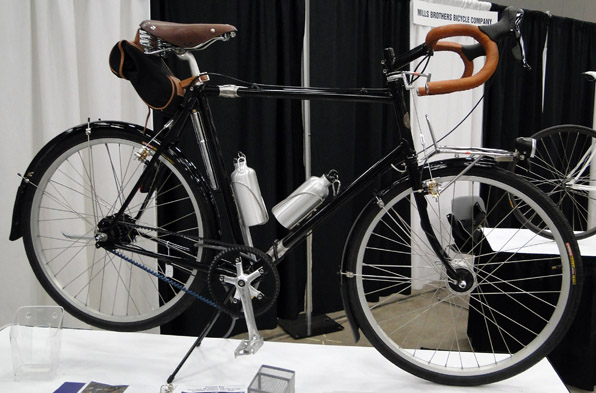 David Mills built this frame in an old smoke house where hams used to cure. The shop is in North Carolina and it's about the size of a Ford station wagon. Amazing!!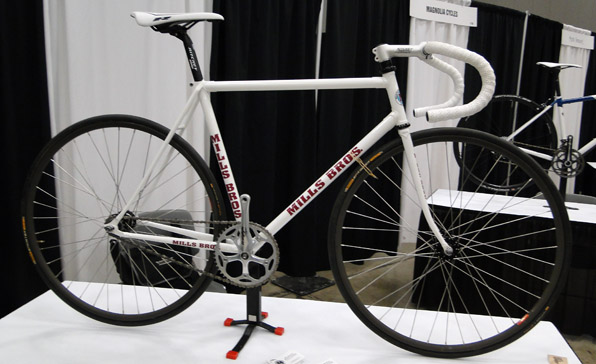 I got to talk a bit with Michael Crum from Magnolia Cycles. Super nice guy. And as you can see, a fine builder too.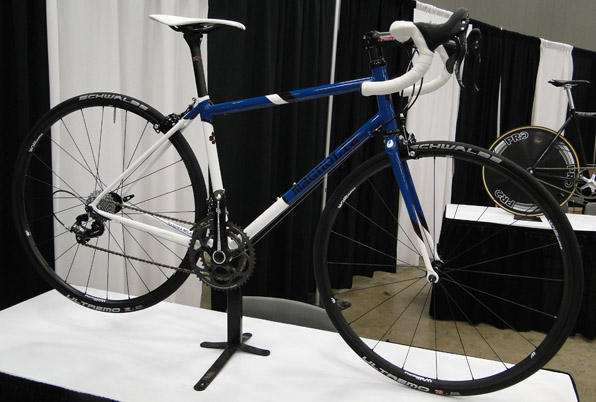 I didn't get to meet Megan Dean of Moth Attack, but I admire that she's doing what she is in Los Angeles; a city that will never be mistaken for Portland.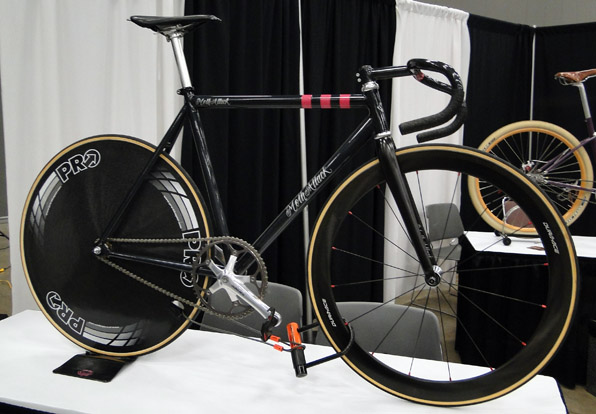 Rich Phillips from St. Louis, Missouri started out making motorcycles and doing leatherwork for motorcycles. Obviously those skills translate well to the bicycle industry. The bike looked great and the hand tooled leather grips were particularly nice.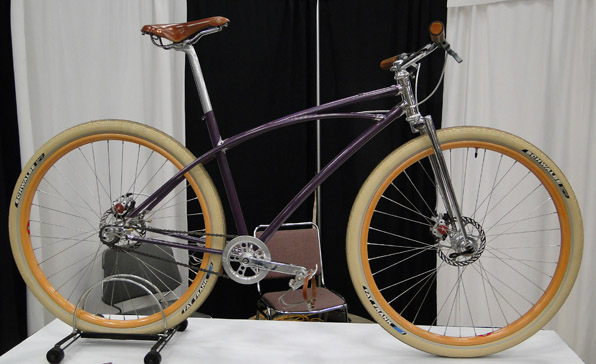 The Vanloozen Brothers Very Big Bike was one of the more unconventional bikes at the show. As it happens, I really like unconventional bikes.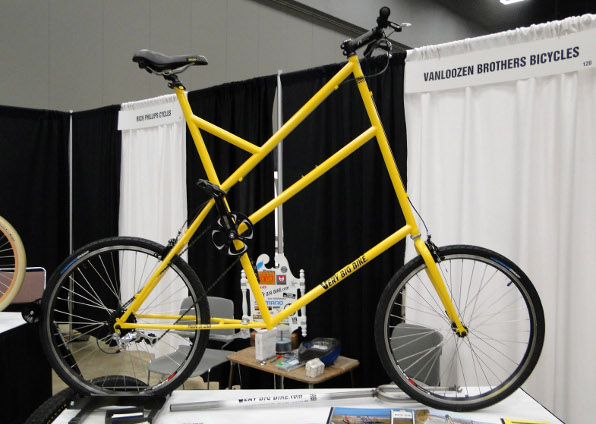 Chris Dornbach built this bike for a customer who wanted to recreate the color scheme of Steve McQueen's race car in the 1971 movie: Le Mans. I'd say he nailed it.
We ran out of time to print new T-Shirts for the show, so by the end of the weekend, I didn't even have one to wear myself. But I was glad to see Ken from Georgia brought his from last year. Thanks for looking out for me Ken!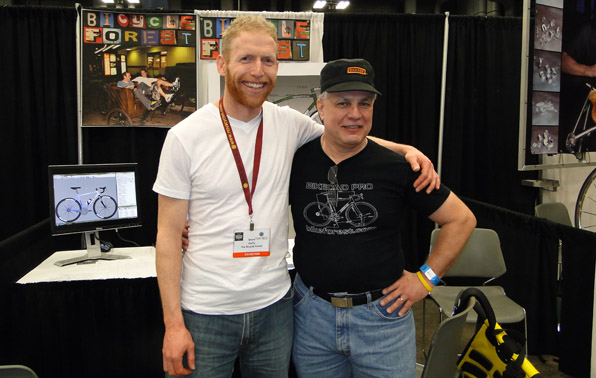 Already looking forward to next year's show in Sacramento!