Sunday, November 25th, 2007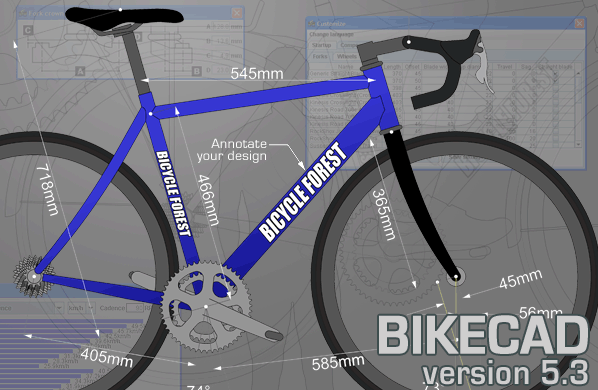 BikeCAD 5.3 is now available. New features that are common to BikeCAD and BikeCAD Pro include:
New icon to minimize the display of the tabs at the bottom of BikeCAD.
Show either Campagnolo or Shimano brake hoods.
Full German, Italian and Portuguese translations.
Type in mathematical expressions into dimension fields (18.5*25.4, etc.)
Check box to make both front and rear wheels the same size.
New features in BikeCAD Pro include:
Unlimited fit schemes in the Fit advisor.
Fit advisor can now manage formula for determining effective top tube length, stem length and saddle setback.
Move the sitting position back and forth on the saddle, or even stand off the saddle.
Show block of text in the title block in any of the four corners of the drawing.
Streamline your interface by removing menus, options and dimensions that you don't need.
Post your own version of BikeCAD on your own site using BikeCAD for the Web.
Initiate custom bike sales by collecting contact info and body measurements from prospective customers using this free PHP script.