Wednesday, October 10th, 2012
The story of my adventures with Reverend Lugio has just been published in the book Moose On The Loose, Matt Jackson's latest anthology of travel stories. This book should be in stores by the end of October.

The Reverend Lugio story, along with my business negotiations with the former Prime Minister of Cameroon and my correspondence with a wealthy investor from Ghana were all sufficiently comprehensive that I felt they warranted write-ups here in this blog. Meanwhile, I was recently contacted by another individual looking to make what seemed like a suspiciously impetuous purchase. Unfortunately, this exchange fizzled out just as things were getting interesting. Although it feels incomplete, I offer it here as a bonus feature to the Reverend Lugio story…
On August 2, 2012 I received the following e-mail:
Hello Sir/Madam,
Could you please email me back with the quote for the ProForm 705 ZLT Treadmill and also let me know if you do accept credit card as a form of payment. Please email me back with any similar treadmill you have in stock if my request is not available.Your prompt reply will be highly appreciated.
Regards,Robert William
In response, I wrote:
Thanks for writing. Unfortunately, we do not carry the ProForm 705 ZLT. Our only Treadmill related product is the Treadmill Bike. You can read all about our Treadmill Bike at: bikeforest.com/tread It retails for $2500.
Let me know if you are interested.
To which he promptly replied:
Brent,
Thanks for the reply.Could you please email me back with the total price excluding delivery of 2 pcs of the Treadmill Bike and also let me know if you do accept credit card as a form of payment. Your prompt reply will be highly appreciated.
Two treadmill bikes without shipping would cost $5000. Yes, we do accept credit cards.
Let me know if you'd like to initiate an order.
Brent,
Thanks and i appreciate your responses. I am interested in ordering the Two treadmill bikes. However, there has been a new development as at now when i spoke with my client. I had to come to Glasgow on a trip and I wont be at home to receive the order. I would appreciate if you contact the shipping company my client recommended for the shipping of the order. I want you to contact them ASAP and request a shipping rate and get back to me with it so I can arrange payments ASAP.
Contact Unc Express Shippers Service at: uncexpressshipping2000@hotmail.com
ship to :Janet Malone22 Tesano Street,Accra – Ghana 00233West Africa
I want this shipping company to pick up the order from your address or the pick up joint and ship out to my clients address direct. So contact them now and get back to me ASAP with subtotal or Grand total of the order with shipping when as soon as you read back from them. Your prompt reply will be highly appreciated.
Kind Regards,Robert
Hello Robert,
As it turns out, we happen to have a couple of Treadmill Bikes in London right now. As you are probably aware, Treadmill Biking is a demonstration sport at the London Olympics. We sponsored the Estonian team with two treadmill bikes for use during the games. We had been planning to have them shipped back to Canada after the closing ceremony on August 12th. However, the race is now over, so we could probably have them shipped down to Ghana whenever you need them. We could also hold them in London if you wanted to pick them up yourself on your way back from Glasgow. These bikes are lightly used and have the logo from the Estonian team painted on the side. However, you could save a lot on shipping if you took these bikes instead of having new ones shipped from Canada.
I've attached a photo of one of the Estonian athletes racing one of our bikes past London's iconic Tower Bridge.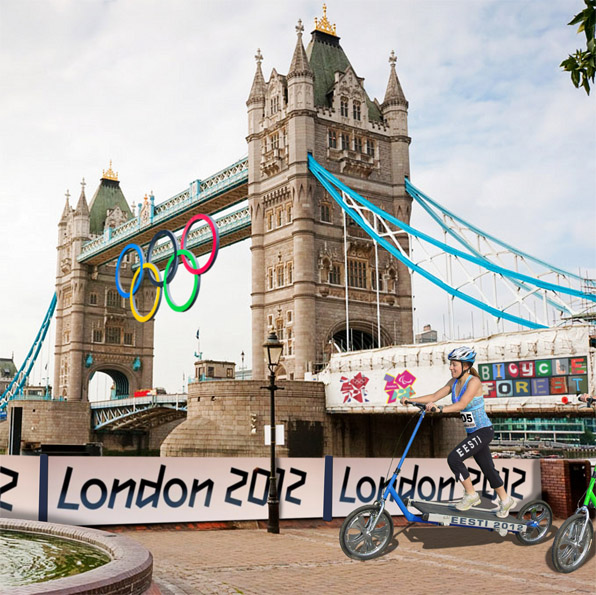 Let me know your thoughts and I will get in touch with Unc Express ASAP.
Brent,
I will be okay with the two bike treadmills games. Well kindly go ahead and contact Unc Express ASAP with the necessary information so we can proceed further. Waiting for your prompt reply.
regards,Robert
Robert was very eager at this point, e-mailing me back to ask if I'd heard from the shipping company. I did end up getting an e-mail from Freight and Logistics Manager, Mr. Chris John. I'll leave out the lengthy details of the shipping quote, but I did forward that on to Robert along with this additional proposal:
Now that we are looking to ship two Treadmill Bikes out of Canada House at the Olympics, it's tempting to take advantage of some of the other items that will be available for sale after the games.
I have just learned that the famous photograph of Canada's Gordon Anquetil, who won gold at the 1948 Olympics also in London, will be up for sale after the games. It is currently on display at Canada House. I've attached an image of Canada's own Ryder Hesjedal standing in front of this photo. This is a wonderful piece of Olympic memorabilia as it depicts the first time an athlete crossed the finish line clutching a Canada goose. This has become a well known tradition for Canadian athletes ever since.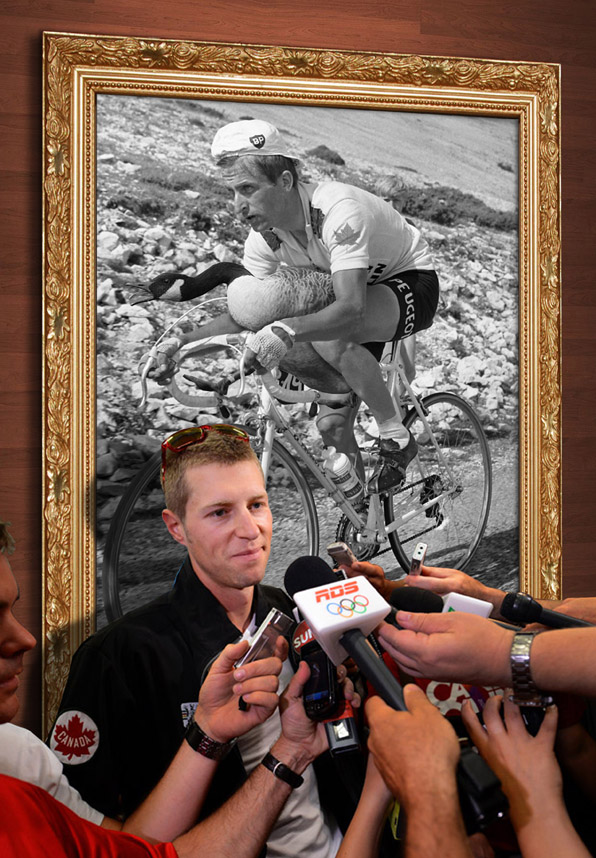 Proceeds from the sale of the photo will go to Canada's Olympic Legacy Fund. The asking price is $5000. Do you think you'd be interested in this piece? I'd be thrilled to see it on display in a country like Ghana, a nation with great potential in the sport of cycling.
Looking forward to your response.
Hello Brent,
Thanks a lot for the mail.I will like to do more business with you but lets get done with this and please email me back with the Grand Total Cost of the order which is the cost of the two bikes together with the shipping costs which is the £2,115.47 as soon as possible. Please kindly let me know if you will be able to pay the freight as i will make the total payment with my credit card and please let me know if you are ready for my credit card so we can proceed. Thanks a again and your prompt reply will be highly appreciated.
Regards,Robert
Before long, I found myself on the phone with Robert. His intention was to have me charge his credit card for the shipping costs so that I could forward this fee to the shipping company by Western Union. Prior to accepting any credit card info, I told Robert that I wanted to conduct a brief customer survey. A sample question from the survey was:
The treadmill bike can be packed into a box of dimension 6.5′ x 2.5′ x 1.3′ and a total weight of 80 lbs. I find that traveling with a treadmill bike on airlines and public transportation is very easy and convenient.
Strongly agree / agree / neither agree nor disagree / disagree / strongly disagree.
Robert didn't have much patience for any of my questions, shouting out DISAGREE at every opportunity. I tried to understand why he would be so keen to proceed with this purchase when an assessment of his customer survey responses would only suggest he thought the Treadmill Bike was a total piece of junk. Alas, as you can probably guess, when I finally agreed to take Robert's credit card number, I told him it was declined by my bank. He proceeded to send additional credit card numbers by e-mail, but I claimed to have no better luck with them. Along the way, I told Robert that one of the Estonian athletes was standing by to autograph one of the Treadmill Bikes. We just needed to know whether he'd prefer the signature to be done with a black Sharpie or a Green glitter pen. Robert never responded. And sadly, that is how this story ends, with an imaginary Estonian Olympian standing near a loading dock outside Canada House with a Sharpie and green glitter pen in hand practicing her signature on a scrap of cardboard.
To Robert,
All the best!
Maarika