In May of 2009, I received the following e-mail:
Attn: Director,
My name is Chief. Simon Ngwa Achu. former Prime Minister of the Republic of Cameroon.
I came across your profile as I was searching for a competent and reliable supplier/manufacturer who can handle a contract supply of Comfort Bicycle, and I learned that your company is into such business.
Regarding the contract, this is a contract supply of 50,000 pieces of Comfort Bicycle to the CPDM as an effort to reduce the global warming threat. This contract is sponsored by the Cameroon People's Democratic Movement (CPDM). The duration of the contract is 14 months (Fourteen months) from the date of acceptance.
The specification is as follows:
Frame: 20" inch frame
Fork: 700C CS9217 Steel
Headset: VP-H692W
Stem: HL-Alloy Adjustable Ext 110mm
Handlebars: MTB -155 620mm x 50mm Rise, Steel
Grips: Velo VLG-185AD2 Black Rubber Gel
Brakes: Promax TX-107L Front & Rear Alloy Linear Black
Brake Levers: : Shimano STEF 50 Alloy
Front Derailleur: Shimano TZ-31
Rear Derailleur: Shimano TX-30
Shift Levers: Shimano ST-EF50 21 Speed Rapid Fire
Freewheel: Falcon FW-70 14-28T Index UCP
Chain: KMC Z51
Crankset: 28Tx38T x48Tx170mm Silver Alloy
Bottom Bracket: YST BB-612 UCP
Pedals: VP 990S Plastic Body
Wheels: High V Profile 700C Alloy Silver w/ Front Quick Release
Tires: Kenda 700 x 40C Black w/ White line on Both Sides
Saddle: Velo VL-3061 B93 w/ Silver Bumper
Seat Post: SP-233 300mm Alloy Silver
I am the Chairman of this Contract Award Committee and I have the authority to award this contract to any reliable supplier/manufacturer that fulfills the contract conditions.
I am contacting you in this business on personal basic because I am interested to make personal profit out of the contract. I would like to know from you about these three things mentioned below.
1) I want to know if you will be interested in this contract.
2) If you will be able to handle the supply within the time frame.
3) I want to know if you will be interested to co-operate with me in
over-invoicing the total contract in my favor as I want to make a personal profit from this contract.
Let me know your response in the few questions then I will explain to you more about the contract and how we can proceed.
If you are interested, I will also like to have your direct contacts for easy communication.
Regards,
Chief Simon Ngwa Achu.
The CPDM Congress Hall
P.O. Box 150 Bamenda, N/W Prov,
Rep of Cameroon ,
Tel: +237 971 728 64
E-mail:chiefachu@gmail.com
This e-mail was strange for a number of reasons.  First of all, a quick web search revealed that Cameroon has never had a prime minister named Simon Ngwa Achu.  However, a man by the name of Simon Achidi Achu did serve as prime minister from 1992 to 1996. I figured if I'm about to make an internet fortune, who am I to let a little detail like a middle name stand in my way? Of course, the real Simon Achidi Achu was born November 5, 1934, which would make him 74 years old at the time of this correspondence. I really had to admire this old man's vigour!
Another odd thing was the degree of specificity in every component that the CPDM is supposedly looking for in their global warming conquering comfort bikes. From the Falcon FW-70 14-28T freewheel to the Velo VL-3061 B93 saddle with Silver Bumper this was going to be one tricky bike to source. Or would it be? Another quick web search revealed one bike that matched these specifications exactly. It was the 21 Speed Women's Tonino Lamborghini Urbano Trekking Comfort Bike pictured below.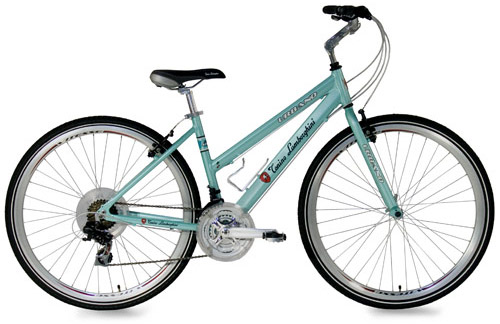 Selling online for $199, this is your quintessential department store bike. And yes, in case you were wondering, Tonino Lamborghini is the son of the famous Italian industrialist, Ferruccio Lamborghini, creator of the world renowned Automobili Lamborghini. Sadly, this bicycle seems to be representative of the kind of cheap product Tonino is recklessly attaching the family name to these days. I'm sure Ferruccio is rolling over in his grave. But I digress.
Knowing that this was just a scam, I thought it would be interesting to see how Chief Simon would respond to a slightly different offer. Here's what I wrote:
Hello Chief Simon!
Thank you very much for contacting me about this opportunity. As it turns out, I do not have the means of providing 50,000 comfort bicycles with those exact specifications. However, I have recently received a shipment of 23,000 Treadmill Bikes from my supplier in Taiwan. You can read more about the Treadmill Bike here. The Treadmill Bike has received rave reviews from urban cycling enthusiasts and has recently appeared on Canadian, US and Japanese television.
Because the treadmill bike is such a unique product, the price is higher than that of most comfort bicycles. The bike retails for $2500, but I would be willing to offer a substantial bulk discount so that you may achieve the personal profit that you surely deserve.
The best way to reach me is through this e-mail address. I'm very much looking forward to doing business with you. Let me know how we should proceed.
A few days later, I got this response:
Attn, Mr Brent Curry.
Thanks for your mail
I would like to use this opportunity and briefly introduce myself to you once again; my name is Chief Simon Ngwa Achu, I am the former prime minister of the republic of Cameroon also the chairman of this contract award committee.
This supply is a government contract sponsored by the CPDM Cameroon.
I am contacting you in this business at this level on personal bases because I want to make personal profit out of the contract. My plan is that after we have agreed on the price, I will tell you the amount you would add for me when submitting your tender and after the contract has been awarded to you and you received the payment for the supply, you would return to me the additional money.
There is no illegal formality in this contract as everything you would do concerning the contract will be legalized and according to the contract terms.
Due to my position as a politician in administrative post, I am not permitted to involve in any personal businesses, as it is against my oath of service. Anybody in my position will as well utilize this kind of opportunity; it is possible for me to ask money from any company that want me to award her the contract but I considered it none confidential as I would not like anybody to take advantage of me in future.
The reason I chooses to work with you is not because there are no company in Cameroon that can handle the supply, but due to I do not want any Cameroonian to know anything about my transactions to avoid anything that would sabotage my office; in this regards I would appreciate that everything we discussed or might do in future must remain absolute confidential.
Concerning the specification/model, I want you to understand that I am a politician and do not know much about Bicycle; I can confirm any model you presented as long as the product is good and you are ready to work with
me according to my proposal.
Like I said I am the chairman of this contract award committee, just to say that I have the authority to award the contract to any supplier/company that I considered creditable.
Apart from quantity, quality and duration; there are other conditions set out by the award committees that every supplier wishing to tender has to fulfill in order to qualify to tender.
The award Committees has decided that any company wishing to participate in this tender must be registered as a CPDM contractor; and the company must have been registered with the CPDM for at least one year.
The company must attach to her bid an attestation worth 30% of the contract value from any Cameroon financial institution.
The payment term is 50% advance payment immediately the contract is signed and the balance will be covered by L/C certified by any first class bank of your choice in the world.
Another option is that the company may choose to supply half of the goods before receiving any payment; in this case an attestation from financial institution is not required.
I want you to understand that these conditions are not a problem as I have plans to provide money to sponsor the contract if we agreed to work. Since I do not want anybody to know my transaction with you; the part you would play in this business is either you register your company with the CPDM or contact any existing company with the CPDM to handle the contract with you. But in the case of using an existing company you must make sure that in no circumstance that you should let anybody know that I am working with you.
I would like that you study this proposal very well and get back to me.
Regards,
Chief Simon Ngwa Achu.
The CPDM Congress Hall
P.O. Box 150 Bamenda, N/W Prov,
Rep of Cameroon ,
Tel: +237 971 728 64
E-mail:chiefachu@gmail.com
This was getting exciting! I had a foot in the door with the CPDM, but at the same time, I knew there would be lots of other companies bidding on this prestigious comfort bike contract, so I made sure to include a nice visual in my next e-mail.
Hello Chief Simon,
I'm sorry for the delayed response. I have been working hard to put together an eye-catching presentation for the awards committee. I've attached an image which will hopefully inspire the CPDM to select the Treadmill Bike for their comfort bicycle contract. I firmly believe that the simple, elegant design of the Treadmill Bike is the perfect
fit for the diverse environment of Cameroon.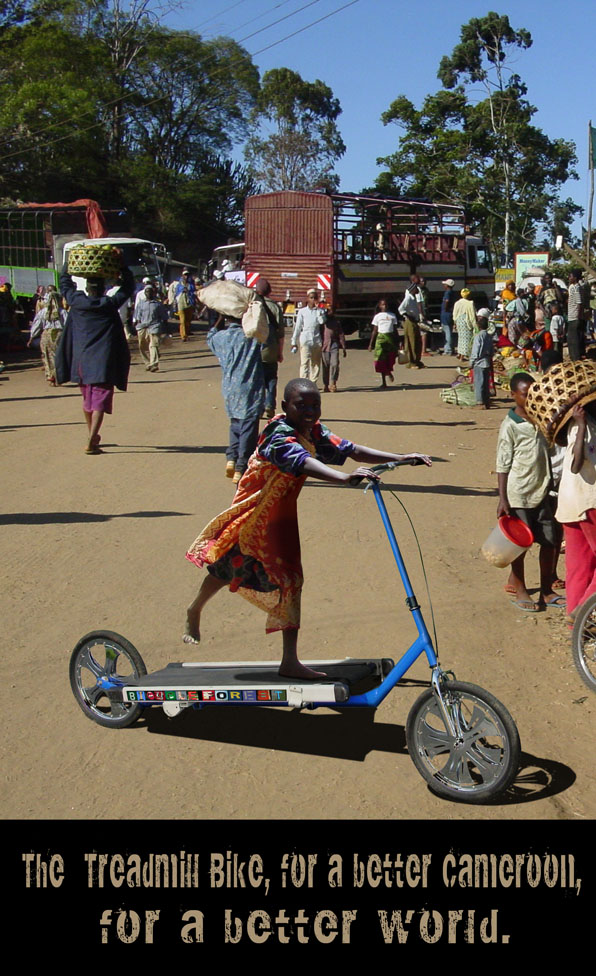 Could you please put me in touch with the people who will be deciding on this contract? There is lots more I could say about the competitive price, comfort and performance of the Treadmill Bike.
Stay tuned for Chief Simon's response to my proposal in part 2!