Continued from part 2… On Thursday, October 1, 2009 I received the following response to my Treadmill Bike Bonus Package proposal.
Attn: Brent,
I have been trying to reach you on phone but I alway send to answering machine. I couldn't be able to write to you because I was too busy, please it will be my pleasure to have your direct phone no that I can contact you and time to call you. You can contact me on my private phone no +237 766 306 90 from 08:00 to 20:00 GMT from Monday to Saturday.
Also I want to thank you for your effort on working according to my plans. The package bonus is OK and the over invoice $63.24 USD per Treadmill Bike is accepted.
Now let me know how you are proceeding with the contract conditions concerning the registration of your company in Cameroon according to CAP 37 of OHADA Uniform Act.
I look forward to hearing from you.
Regards,
Chief Simon Ngwa Achu.
Hello Chief Simon!
Thanks for writing. I'm sorry my phone has been busy when you've been calling. I've been very busy securing delivery on those items for the bonus package. I had a little headache over the Peter Pan Getaway boots. It seems that all 50000 pairs were going to be ladies size 7.5. I figured that you'd want a better variety of sizes so I insisted that half of the boots come in men's sizes. They went along with that, but refused to send me the breakdown of exact sizes they'd be shipping.
As for registering our company in Cameroon, I've been thinking about another exciting venture which would likely require the formation of a Cameroon based company anyway. The idea would be to lead tours of Waza National Park on a fleet of Couchbikes. I think there is a real market for this sort of active ecotourism and I'd be thrilled if you could help me realize this dream. I'm sure that there are a lot of regulations on business operations within the national parks, but as the former Prime Minister, I'm sure you'll know all the people I'll need to talk to to make this happen.
What I propose we do is form a Cameroon based company with the primary objective of offering fun, active tours of Waza National Park on pedal powered Couchbikes. Once we get that business up and running, we can import the Treadmill Bikes as a side venture, possibly in our down time during the rainy season.
I've put together a couple of posters to promote my new business idea. I've taken the liberty of including a couple of customer feedback quotes which I've attributed to you. I know that we haven't actually started offering tours yet, but I think it's important to give the impression that we are experienced and know what we are doing.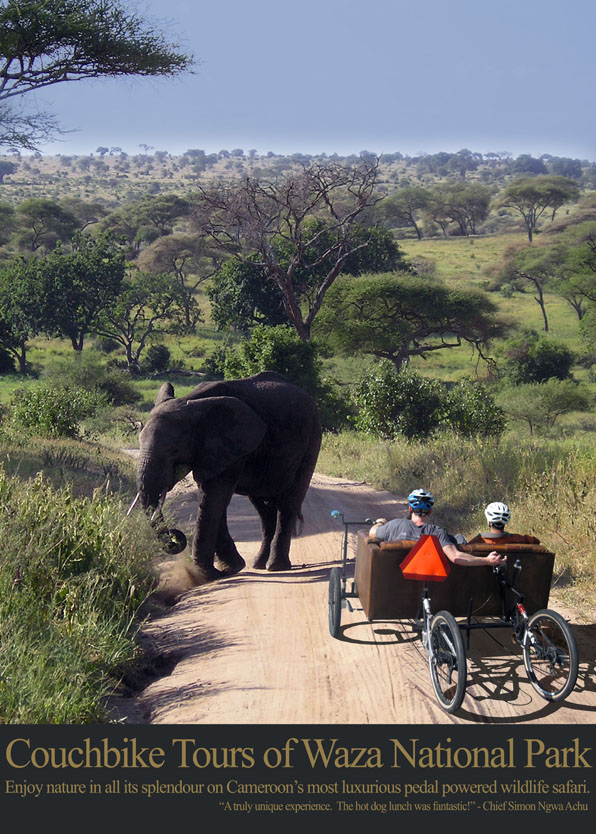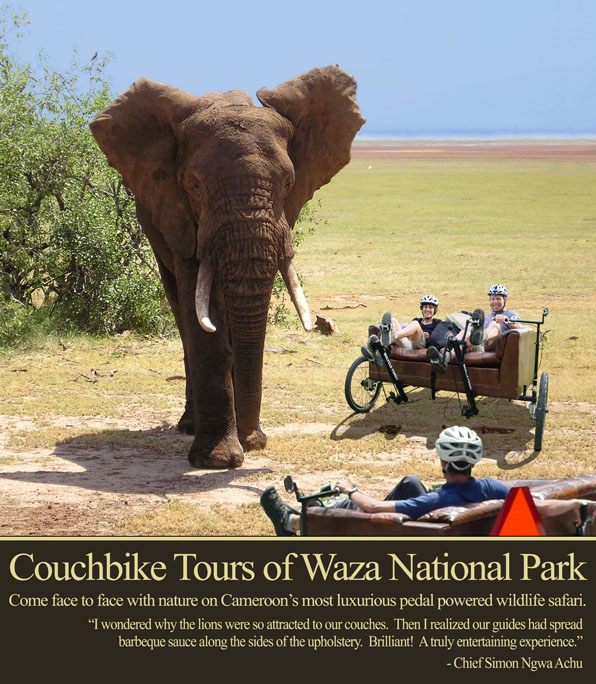 I know we've got a lot of work to do, but I look to you for guidance on many of the administrative procedures. Let me know your thoughts.
Of course, these Couchbiking among elephants photos never happened. The couchbiking pictures were taken during Boaz Frankel's Un-Road Trip visit that summer.
For Chief Simon's response to my Couchbike tour proposal, stay tuned for Part 4.