Continued from part 4… On Monday, October 19, 2009 I responded to Kwella Samson (Barrister/Solicitor). As per Chief Simon's earlier request, I made a point of assuring Kwella Samson that Chief Simon Ngwa Achu had absolutely no involvement in my business venture.
Thank you for writing back Kwella! I'm not sure whether to go for a basic registered company or an ordinary registered company. The vision for my business is to run tours of Waza National Park on pedal powered couches. Clients would pedal their couches through the park, petting and feeding whatever animals they encounter along the way. The tours would run all day and would feature a delicious hot dog lunch.
In the rainy season, I would strive to promote healthy, environmentally friendly transportation to the Cameroonian population by importing and selling Treadmill Bikes.
If you could advise me on whether to choose a basic or ordinary registration for my company, that would be greatly appreciated.
Also, I have plans to travel to Cameroon in the near future. I think I may have the opportunity to meet Chief Simon Achu who served as the Prime Minister of Cameroon from 1992 to 1996. I should emphasize that Chief Simon has no involvement whatsoever in my business enterprise. However, as he is currently the traditional ruler of his village and a very busy man, I would like to present him with a gift to show my appreciation for his time with me. Can you think of an appropriate gift that I might present to him? If you're thinking a gold plated tricycle, I should tell you I've already thought of that, but it didn't work out very well. Any other suggestions would be welcome.
I heard back the next day.
Dear Sir,
Thank for your mail.
In this case I will advise you to register an ordinary company and provide the bellow requirement for us to proceed.
1. The name you want to use for the company.
2. Particulars: The particulars of the shareholders if you have partners.
3. Duration: The number of years you want to run the company.
4. The 10% of your share capital.
5. The registered office address: You have to provide us with an address where your office will be located If you already have one, but if not let us know if we can use our office address or we should organize one for you.
7. Agreement signed by shareholders to form a company, if the company is owned by many parties. But if not, scan and send to us a letter signed by you authorizing us to make the registration on your behalf.
8. The attestation from a bank: we need an attestation from a bank testifying that the share capital is deposited with the bank. But if you have no bank account in Cameroon we can help you provide the attestation since it does not cost money.
9. 65,000frs CFA (100 Euro equivalent) for stamp duty.
10. 300 Euro for our administrative fee
Cameroon is a peaceful country and the people of Cameroon are very kind and welcoming. As a traditional ruler like Chief Achu and a well respectable person in this country of Cameroon, I will advise you to bring any type of gift since nothing are too small and nothing is too big, I am sure as a humble man like him he will accept and value anything you will give to him.
Otherwise you can still ask him what he will like you to bring for him but I don't think it's a better idea.
We wait for your prompt reply and we look forward to be meeting you in Cameroon.
Thanks,
Kwella Samson (Barrister/Solicitor)
(Senior Managing Partner)
KWELLA CHAM.
66 Avenue Lonkam, B.P.4008 Bafoussam.
Région de L'Ouest, Cameroun
Tel: +237 942 943 85
Fax +237 330 279 15
E-mail: kwellacham@hotmail.co.uk
Needless to say, I wasn't too keen on forking over the 400 Euros just to keep up this ruse. Kwella, for his part, was doing a pretty good job of handling my ridiculous questions with the diplomacy of an actual lawyer. A few weeks went by that I was too preoccupied with actual work to spend any time on this escapade.
Along the way, I read in the news that the actual Simon Achidi Achu was in a coma for part of the time that I was corresponding with his alter-ego. I wrote to Chief Simon to inquire about his recovery from that ordeal, but I never heard back.
In an attempt to explain my long silence to Kwella Samson, I went with the most probable explanation.
Hello Kwella,
I just thought I would write to apologize for my recent lack of communication. I've attached a photo of a stunt I was attempting on my Treadmill Bike. As you might have guessed, the stunt did not go well. I fell into one of the flaming barrels and received third degree burns to 70% of my body. I've been in hospital ever since. However, I've been out for the last few days and I'm just trying to get my bearings again.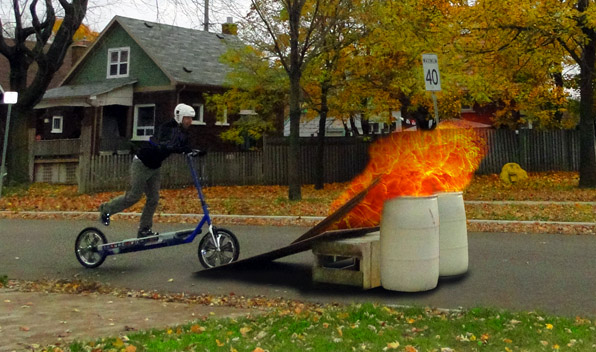 I'm concerned that I might have missed my window of opportunity on one of the business ventures I had planned for Cameroon. Therefore, I am going to hold off on registering my business until I have heard from my other contacts in Cameroon. I will let you know as soon as I have heard from them though.
It looks like Christmas is just around the corner. Is Christmas a big holiday in Cameroon? What kind of gifts might people exchange at this time of year?
Two days later, I got this reply from Kwella.
Dear Sir
Thank you for your mail and i really feel sad to hear that you had an accident,i hope that you will feel better soonest.
It is true that Christmas is fast approaching but not every body regards Christmas as an important day but Christians will obviously regard it with high esteems. Honestly i wont know what will be good as a gift but it all depends on the class of people, but there is one thing that i know that what ever gift that is given from the bottom of your heart is always considered the greatest. Just think of anything you can imagine and buy for the concern, it will be appreciated.
Regards
Kwella Samson
This was the last correspondence with any of my Cameroonian friends. While I'm sad that Treadmill Bikes will never become the utilitarian vehicle of choice in Cameroon and that I may never enjoy a delicious hot dog lunch while seated on a Couchbike surrounded by majestic lions on the African Savannah, I am glad that for a few months in 2009, I was able to share that dream with a man who claimed to be the former Prime Minister of Cameroon. Wherever you are my friend, I thank you from the bottom of my heart.