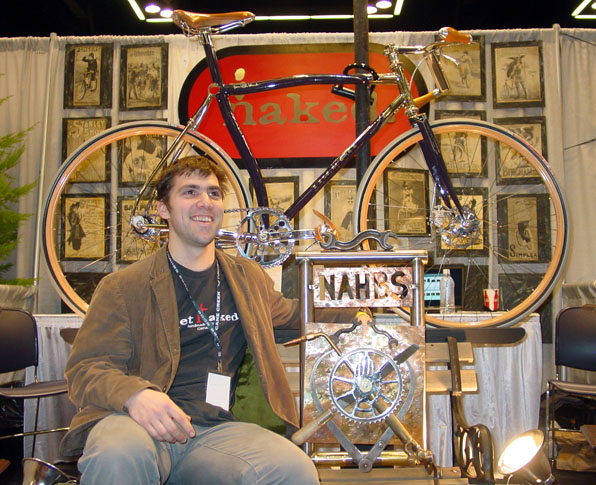 No one was surprised when the President's Award, the People's Choice Award and the Best of Show Award all went to Sam Whittingham of Naked Bicycles and Design.  Sam's fixed gear bicycle was the talk of the show. It features old fashioned elements like beechwood rims and grips, polished lugs and a sculpted handlebar. The bike also has modern elements such as state of the art hubs and a front disk brake with cool internal cable routing. Another neat touch was the hole through the top tube for securing the bike with a U-lock.
Since there were no awards that BikeCAD could have fit into, I had to take satisfaction in seeing owners of BikeCAD Pro winning awards. Besides Sam Whittingham, who's been a long time BikeCAD Pro user, the following award winners also use BikeCAD Pro.


Crumpton Cycles won Best Carbon Fiber Bicycle
Here's a photo of my booth neighbour from NAHBS, Tony Maietta.  Tony used to work at Hot Tubes, so not only does he weld his own frames, but he also paints them too.