Friday, April 15th, 2011
Continued from part 3… On Monday, October 5, 2009 I received the following response to my Couchbike Tours of Waza National Park proposal.
Attn: Brent,
I am really impressed over your ideas, I want you to know that we will accept any sizes of the shoes since it is a bonus package and we are not paying for it. I also feel that we are going far, like I told you that this contract will continue till lot ten, the issue of Couchbikes for Waza park will be discoursed in person that is when you will be in Cameroon for the signing of this first treadmill bike contract.
Note that I am very busy person, I am a traditional ruler in my village taking care of about six hundred thousand inhabitants coupled with my political and administrative post. I will like that we talk more about this transaction on phone than mail that will enable me save some time for my self.
The issue of using a Cameroon based company is a good idea but how far have gone with the arrangement, have you seen one? While searching or making an arrangement with any company here in Cameroon make sure that the company does not know that I having any transaction with you. Let me know about this soon as we the committee members will be having a meeting on Wednesday to discourse the date of the Bid tender.
I wait to hearing from you.
Regards,
Chief Simon Ngwa Achu.
The CPDM Congress Hall
P.O. Box 150 Bamenda, N/W Region,
Rep of Cameroon ,
Tel: +237 766 306 90
E-mail:chiefachu@gmail.com
At this point, I was amazed that Chief Simon was still going along with all this. I wondered how he could still be taking me seriously. I wasn't entirely sure what I was trying to get out of this myself. One thing I hoped for was for Chief Simon to come out and admit that he wasn't who he was claiming to be. It occurred to me that if I wanted to catch him in a lie, maybe I should make up a story that might have involved the former prime minister of Cameroon but actually never did. After all, it's always easier to confirm that something did happen than to prove that something never happened. That was my thinking as I crafted my response.
Hello Chief Simon!
So you'll need me to travel to Cameroon to sign the Treadmill Bike contract? That can definitely be arranged. As I mentioned before, I think I'll have to do a lot of work on the ground to get my Couchbike tour company setup. I'll need to hire staff to work as tour guides, mechanics and administrators. We'll also need several cooks to prepare our exquisite hot dog lunches.
It will be great to meet you in Cameroon. Where is your village located? What kind of gifts should one bring when visiting a traditional ruler? I was looking online to see if I could find out a bit more about you and what your interests are so that I could bring a suitable gift. I assume that you are the Simon Achu that served as Prime Minister from 1992 to 1996. I was looking through the Internet Movie Database and learned that you also did the voice-over work for Officer McWiener in the movie Air Bud 6. I managed to find a replica of the tricycle that Officer McWiener used on eBay. I've put a bid in and will monitor the auction over the next few days. I'd really like to get that tricycle so that I can have it gold plated and present it to you upon my arrival in your village. I've attached a shot of Officer McWiener to this e-mail. I was wondering if you could tell me how they did this. Did they actually train a wiener dog to ride a tricycle, or was it just a little kid with a really good mask?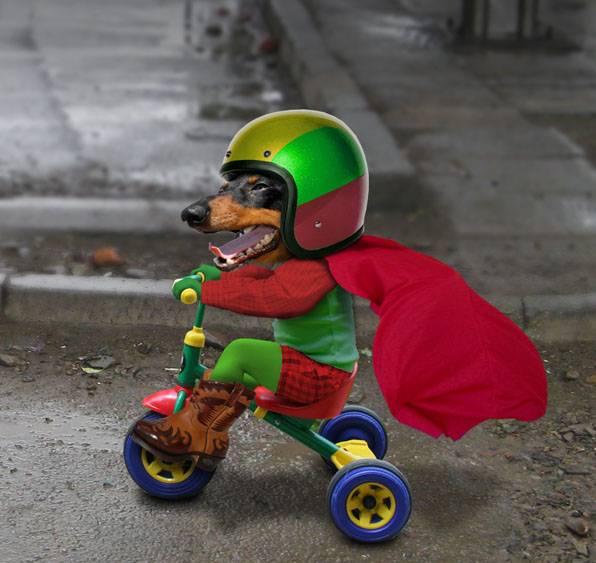 Please let me know when I should schedule my flight to Cameroon. Which airport should I fly into? Would you be able to arrange for someone to meet me at the airport? Please tell me more about your time doing voice-over work. Did you get to meet any big name celebrities? And please, please, please tell me more about Officer McWiener. My friend Randy thinks that it's a real wiener dog, but I figure it's got to be just a kid with a mask.
Looking forward to your response.
As it turns out, I might have gone a little overboard with that story. I actually had to call Chief Simon on the phone to reel him back in. But after a brief discussion, the contract was back on track.
Attn: Brent Curry,
Thanks for your call last Friday.
Like I told you that I would like to talk with you on phone as I have been busy traveling and doing many things, it not be easy for me writing mails all the time.
The tender of this bid will be released on the 3rd of November 2009 and you have to do everything possible to have your company registered before then that will guarantee your chance of winning this contract. Below are the contact of a good lawyer who specialize in company registration, in no occasion must he know that you got his contact through me, tell him that you got his contact through one Cameroonian living in Canada this is to avoid scandal or any petition after you have won this contract.
Let me know what you discourse with him.
Kwella Samson(Barrister/Solicitor)
KWELLA CHAMBER.
66 Avenue Lonkam, B.P.4008 Bafoussam.
Region de L'Ouest, Cameroun
Fax: 00237 3302 7915
Tel: +237 942 943 85
E-mail: kwellacham@hotmail.co.uk
I wait for you feedback soon.
Regards,
Chief Achu.
So I now had another e-mail address to correspond with. Although I suspected that it might actually be the same slippery character controlling both accounts.
Hello Kwella Samson,
I got your contact info through a Cameroonian living in Canada. I am bidding on a contract that will be decided on November 3rd, but to win the contract, my company must be registered in Cameroon. Would you be able to assist with this process?
By the way, as someone living in Cameroon, have you seen the movie Air Bud 6? I believe that one of Cameroon's former Prime Ministers did some voice-over work in this movie. I imagine if enough Cameroonians knew about this, there would be a lot of interest in the film in Cameroon.
Looking forward to your response.
Of course, I wanted to stay in touch with Chief Simon as well.
Hello Chief Simon,
Thank you very much for passing on the contact info for the lawyer. I have e-mailed them about getting the ball rolling on registering my business in Cameroon.
In the meantime, I have some bad news about that gift I had tried to arrange for you. I won the eBay auction on that tricycle and had it sent out for gold plating. What I didn't realize was that there were a large number of plastic components on that bike. The extreme heat of the gold plating process ended up melting the tricycle into a molten heap of plastic goo. The whole thing is destroyed. It is practically worthless except for the 200 grams of gold that is melted into the blob.
The goldsmith told me that there was about $7000 worth of gold mixed in with the plastic, but the whole thing just smelled so bad, and I was so heartbroken to see what had become of my prize tricycle that I just told him to keep it.
I'm still trying to think of the perfect gift to bring you when I visit you in Cameroon. Is there anything that you or your village could use?
Looking forward to finalizing this deal.
Meanwhile, I heard back from Kwella on the same day.
Dear Sir,
Thanks for consulting KWELLA CHAM.
We are sorry we don't know much about movies.
Regards your request about registering your company in Cameroon, we will like to confirm to you that you made the right choice in contacting us, we have been operating in this direction for about 11 year and we have the best contact in Cameroon in terms of fast arrangement…. It was actually a pretty long winded e-mail filled with a lot of legal mumbo jumbo. I'm just going to jump ahead to the most important part…
10) 65,000frs CFA (100 Eur equivalent) for stamp duty.
11) 300 Euro for our administrative fee and we will deliver the work in two weeks time.
We are sorry our website is still under construction but we will send it over to you as soon as it is ready.
Thanks,
Kwella Samson(Barrister/Solicitor)
(Senior Managing Partner)
KWELLA CHAM.
66 Avenue Lonkam, B.P.4008 Bafoussam.
Region de L'Ouest, Cameroun
Tel: +237 942 943 85
Fax +237 330 279 15
E-mail: kwellacham@hotmail.co.uk
For the exciting conclusion to my adventures with a Cameroonian spammer, stay tuned for Part 5!