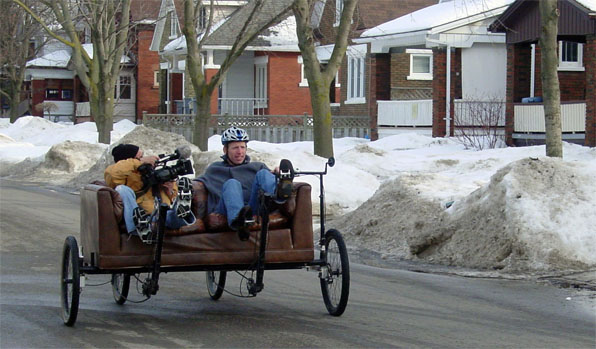 When a production company from Los Angeles called last week about doing a video shoot involving the Couchbike, I told them it sounded great.  But as I looked out the window at the blanket of snow covering everything in sight, I wondered how amenable they might be to doing all this a little later on, say in May.  No luck there, so we scheduled it for this week and hoped for the best.
This has been an incredibly snowy winter.  In the month of January, the temperature in Kitchener-Waterloo only went above 0°C for a total of three hours.  That's meant that whatever snow has fallen has generally stuck around.  However, it finally did warm up this weekend.  It also rained a lot.  So by yesterday morning the roads were clear and ready for couchbiking.

Mike and Dave were sent over from Toronto to record the sound and video.  Natalie and I rode the couchbike around.  We also did some hulabiking and I spent some time in the garage tweaking wheels which may or may not have needed truing in the first place.  Overall, a fun day.  Watch for the footage in an upcoming show with the working title "Loose Screws".  Wait, what!?