| | |
| --- | --- |
| | Treadmill Bike Mania has hit Brazil. Enylton Carlos Amigo of Severínia, Brazil built this three wheeled treadmill bike he calls the Esterocleta in October 2000. He made it from old bits of iron and other parts he found lying about. |
| | |
| --- | --- |
| Arpad Szoke of Hungary, built this recumbent with a cool skeleton paint job. | |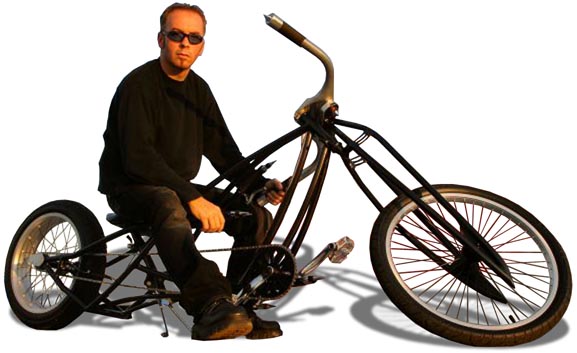 This bike called Broken Arrow is another one off custom chopper by master craftsman Robert Lalonde of RHL Kustoms. The bike features an intricate flowing curved frame design with chrome metal spikes on the end of some of the frame tubes. The copper metallic black frame is accented by polished copper trim pieces that are of the same curves and shapes as the frame. The bike was completely fabricated from scratch other than the wheels and some of the drivetrain components.
| | |
| --- | --- |
| | Dick Buist built this fiberglass fairing for his Greenspeed recumbent trike. |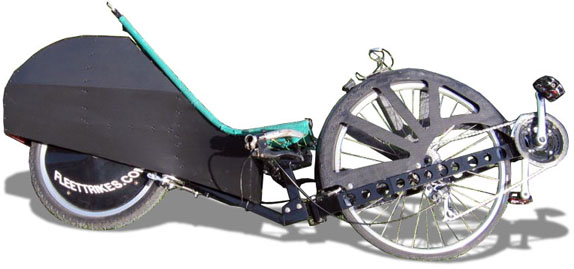 Crippy built this copy of a mid steered lowracer called the Python (designed by Jürgen Mages of Germany (www.python-lowracer.de)).
Crippy made his from rectangular sections of mild steel with a coroplast tailbox for storage. The pivot point is in the middle of the bike and you steer with your feet, hips and shoulders. It is fast and comfortable, but you have to learn to ride it from scratch as it handles just about the opposite of a normal bike.
| | |
| --- | --- |
| This is a photo of Mr. Clyde Potts of Wooster Ohio and his Up and Down Bike. Both the front and rear hub are offset by 2.5 inches. There are 4 different lengths of spokes in each wheel. The frame is a 26 inch frame, but with 24 inch wheels. Some of the original bracing was cut out , to make room for the tires when they turn. Clyde bought this bike from a man about 20 years ago and has won many trophies with it from various Parades. Both of these trophies were won from a single parade recently. | |