Max Chen found this frame on the street, paint already stripped off and covered in rust. He cut out the original top tube and down tube, but kept the same frame geometry. Max says that the new tubing he twisted together and used to join the seat tube and head tube is quite thick so the final product is still very stiff. Max also forged a matching set of bar ends for the bike.

Well done Max!
Peter Wagner and friend Laura ride their entries in the Ventura Kinetic Sculpture Race. They've dubbed these bikes "Pinky" and "The Hoosier Whymcycle, Bounce For Glory". The rear wheels are eccentrically mounted like the Hulabike. The wide tires are a nice feature on these bikes, not just for the amphibious requirements of the race, but also for hills where speed can be controlled by walking on the actual tread of the tire.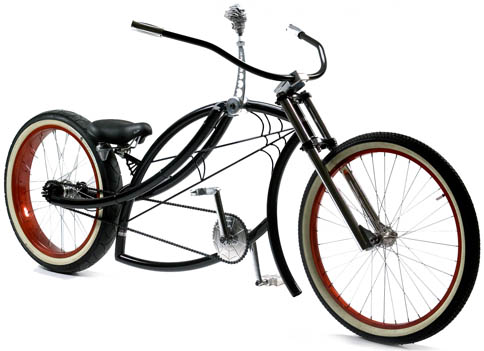 This is an example of one of the many amazing bikes that Sam Mckay has built in his one man shop in Lumsden, Saskatchewan. Sam's company is called Firebikes. It's definitely worth checking out some of Sam's other stuff.
Whitey from New Jersey built this nice looking chopper and painted it burnt copper metallic. He also splurged on a set of Kenda Flame treads, and a set of Weinmann as7x rims.

For Whitey, this is still a work in progress. He also talks about adding a set of rear side baskets. Ride on Whitey.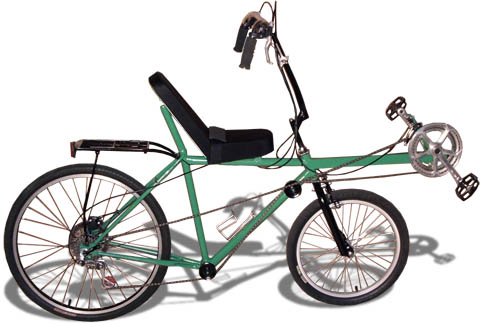 This short wheelbase recumbent was designed for city driving and fast sprinting by the industrious Brad Graham. For more of Brad's work checkout atomiczombie.com.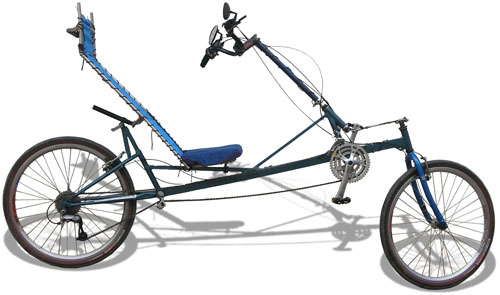 This is Hezi Yismach's fastest recumbent yet. It features a high BB and 26" wheels. You can also adjust the angle of the seat on the fly.